Just a Feint Glimmer of Light.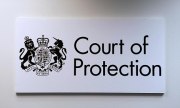 The focus of mental health activists for many years has been 'deprivation of liberty' – if you look at the case load of the majority of lawyers who claim to specialise in mental health legal abuses, you will find that they have been mainly engaged in opposing orders made under the Mental Health Act for the loss of physical liberty, commonly known as 'sectioning'.
Unfortunately, there is no single legal definition of 'deprivation of liberty' – so from the layman's point of view, if you haven't been physically locked up, you haven't been deprived of your liberty.
Liberty comes in many different forms. It is not just the ability to walk through an unlocked door – it is the liberty to make your own decisions around all manner of things.
Fortunately, after a rocky start – the original Article 5 of the 1950 European Convention on Human Rights managed to lump the mentally ill in with drug addicts, vagrants, and those suffering from unmentionable infectious diseases as being persons not considered worthy of having their human rights protected.
Article 5
1…. no one shall be deprived of his liberty save in the following cases… (a) the lawful detention of a person after conviction by a competent court; (e) the lawful detention of persons for the prevention of the spread of infectious diseases, of persons of unsound mind, alcoholics or drug addicts, or vagrants;
European lawyers and legislators have taken a more enlightened approach. Thomas Hammerberg is the Commissioner for Human Rights, a non-judicial role on the Council of Europe. He has been examining the role of 'Guardianship' in curtailing the liberty of the mentally incapacitated and concluded that:
The bulk of the legal capacity systems in Europe are out-dated and in urgent need of reform. The automatic loss of human rights of those placed under a guardianship regime is a practice which must be changed.
Being recognised as someone who can make decisions is essential for everyone who seeks to take control over his/her life and participate in society on an equal basis with others. Having legal capacity enables us to choose where and with whom we want to live, to vote for the political party we prefer, to have our health care decisions respected, to control our own financial affairs and to have access to cinemas and other leisure activities.
No exception should be made from the assumption that all adults of majority age have legal capacity. In a society respecting human rights also persons with intellectual and psycho-social disabilities must be included.
When you are considered to be mentally incapacitated,  you are deprived of your legal capacity – in the eyes of the law, you become a 'non-person' and your wishes and decisions have no legal standing. Commissioner Hammerberg is of the opinion that this is contrary to the spirit and letter of The Convention's Article 12 (on the equal recognition before the law) which signals a deeper understanding of equality: all persons with disabilities shall enjoy legal capacity on an equal basis with others in all aspects of life and shall be provided with the support they may require in exercising their legal capacity.
Part of the problem is the sheer ease with which you can experience a blanket removal of your legal capacity. Most mental capacity is lost NOT by evidence from expert witnesses, or even non-expert witnesses, or even corrupt expert witnesses, but by ordinary GPs, who, from the wording on the form, fondly imagine that they are merely asking for the Court Of Protection to 'look into the matter' rather than signing a mental capacity 'death' warrant. It then does take an 'expert witness' to pronounce on the matter if you are to win your capacity back.
Without legal capacity, you have lost the ability to litigate yourself, to challenge your situation. John Hemming MP is also heartened by the interest Thomas Hammerberg has shown in this less well publicised loss of liberty, and has e-mailed me to say:
"I have been unhappy about the ease at which people have their capacity to litigate removed in England and Wales and also that many decisions appear not to be even in accordance with the Mental Capacity Act 2005.  There is no proper system of checks and balances relating to the removal of mental capacity.  There are many decisions where to me even the Masterman-Lister test is not satisfied, but people are made into non-persons.
"Following that then there is the systemic complacency that leads to so many cases of maltreatment that are, of course, almost entirely secret.   The system needs a major overhaul by parliament.  I have written to the Minister and the Chair of the Select Committee making this point."
Hammerberg's statement is but a small step, but a profoundly important one in the right direction. A Human Rights challenge is what is needed.
tim
March 16, 2012 at 12:28

UnRegenerate
March 11, 2012 at 22:18

M Barnes
March 8, 2012 at 19:06

Lucy
March 8, 2012 at 18:41

Charles Crosby
March 8, 2012 at 17:24

John77
March 8, 2012 at 17:09

Pericles
March 9, 2012 at 14:29

Charles Crosby
March 9, 2012 at 15:08

Anna Raccoon
March 9, 2012 at 16:02

Edna Fletcher
March 10, 2012 at 01:59