Back When We Had Time to Care…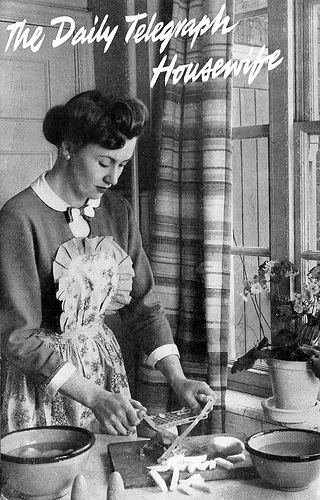 Are you old enough to remember when you went through the weekly budget with a pencil, working out whether you could afford to go down to DER and rent a TV? Remember when carpets only covered the middle of the floor? When the launderette was a welcome relief from the burden of washing by hand; when you cooked one pot stews on the gas ring attached to your gas fire?
It went hand in hand with a time when it only took one wage to support a household, when there were no child care bills because that was your wife's job, you neither needed nor owned a fridge because she went shopping every day – in between dropping her stockings off to be 'invisibly repaired' and taking your Mother into town on the tram.
Gone forever; carpets go to every corner of the room now, as does the heating, and as for the kitchen – it has become a 'life style' choice, furnished with cleaning ladies and au pairs to look after the kids – for you are both at work now to pay for it all – you still can't afford to buy the TV, but thank heavens for credit cards eh?
Something else has changed too – it is now considered 'shocking' that you should be expected to care for your elderly relative in hospital. Evidence that we 'have become a third world nation'.
"As taxpayers, we sink millions of pounds a year into the NHS. Are we not entitled to expect that they will look after our elderly relatives in their hour of need?"
Here in France you are unlikely to see a French owned house that is not described as being 'suitable for restoration'. If the carpet goes to the corners of the room, or there is accommodation in the attic, previously used to store apples and potatoes for winter, now turned into something suitable to impress your family and friends when they come to join you round the newly installed pool; if the photographs of the kitchen show B & Qs finest integral fridge and cooker hod – you can be sure it is English owned.
The French may be light years behind the English in terms of 'house beautiful', but they still cling to the idea that they are best suited to knowing which order Aunt Maude likes to be dressed in in the morning, how she likes her feet to be rubbed when she is feeling a bit 'crook'.
They see the job of Doctors and Nurses as being one of applying the art of medicine, and even then, they like to supervise. Sit outside any consultant's office and when a fresh name is called, watch as six or seven people, the aunts, the sisters, the grand children, all rise up and troop into the consultants room. Health is a family affair.
Visit any hospital ward and you will find that 'visiting hours' are round the clock – yes –even four in the morning if you wish. Beds are surrounded by entire families all watching the quiz show on TV, offering Auntie Maude little tit bits to tempt her appetite, massaging her feet (what is this French obsession with massaging feet?).
If the Doctor arrives to see Maude, or some nursing procedure is to be carried out, they are politely invited to step outside – to where there are comfortable armchairs provided for the hordes to sit, until the nursing business is over and the family returns to watch over Maude.
There is nothing 'third world' about it, as various articles have implied in the UK. It is simply that the French only expect their hospital service to provide medical care – they don't assume that because they pay 'millions into their health service' that this means a licence to dump their relatives whilst they go out and earn the money for wall to wall carpets.
Somehow in the UK, the idea has grown up that the NHS is a permanent hotel facility for those temporarily in need of a fulltime Doctor. That 'relatives' are something to be excluded at all costs or only admitted between 3 and 5pm. That once something is 'wrong' with you in some way, you become the total responsibility of the state – I read the other day of a British postman who had super-glued his arms to the desk in protest at only getting unemployment pay and not full disability pay because he now had something relatively minor wrong with him. Outraged he was. He was 'sick' why wasn't he being given his 'ticket to ride'?
"People go to hospitals because they are too ill to look after themselves, and because their own close families lack the skills to do the job."
What 'skills' do you need to help old Fred to the loo, to ensure that Maude gets to eat what she likes – and gets to eat it at all? Why would you assume that this is a specialist task, to be provided by the NHS?
'Ah', but the cry goes up, 'we have this beautiful house with a massive mortgage and the carpet goes all the way to the corners of the room, and we both have to work all hours to afford it, have you seen the price of child care lately?'.
"Here we go, full speed ahead into the Third World. In the poor countries of Africa and Asia, people move into the bare, harsh hospitals where their sick relatives are being treated, bringing food and clean sheets and taking on much of their care."
They don't expect you to bring your own food and sheets in France and Spain – towels you provide, mind you, and they would consider it definitely third world if you were prevented from receiving the care and support of your family for 22 hours of the day. It is quite normal here to rent a cot for 2 Euros to sleep in so you can be on hand 24 hours a day.
I seem to remember that in Britain, MOT stations started painting a line on the floor behind which the anxious owners were required to wait as opposed to hovering beside the mechanic as he tended to their pride and joy – yet we think nothing of sending our relatives behind a closed door to be worked on, and resent being invited to step inside.
Billions have been wasted on a central storage system for patient notes, simply to avoid the French method of putting the patient in charge of his own notes, to be hand delivered to whichever Doctor needs them. Can't Britons be trusted to look after their own x-rays?
Which system do you think is 'third world'? Discuss.



October 13, 2011 at 19:07




October 11, 2011 at 10:59




October 11, 2011 at 00:46










October 11, 2011 at 06:46







October 11, 2011 at 00:38




October 10, 2011 at 22:07




October 10, 2011 at 20:57







October 10, 2011 at 20:32







October 10, 2011 at 21:06




October 10, 2011 at 20:01




October 10, 2011 at 19:39




October 10, 2011 at 19:13




October 10, 2011 at 17:17




October 10, 2011 at 14:36










October 10, 2011 at 14:24







October 10, 2011 at 14:04










October 10, 2011 at 19:33







October 10, 2011 at 12:32







October 10, 2011 at 12:26