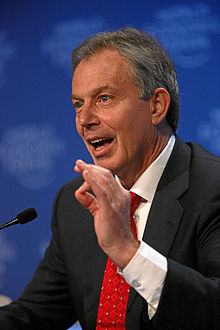 Let us examine the record: unprecedented electoral success for his party; massive approval ratings; vast donations to the party. An inspired political strategy that appeared to marry conflicting goals. A media management strategy that still defines the "media narrative" today for his opposition. There can be no doubt whatsoever that despite whatever else can be laid at the feet of Tony Blair, he was a consummate politician, someone who (unfortunately) has totally changed the face of British politics forever.
Even his flaws have brought benefits, exposing the venality and moral flexibility required by a politician for us all to see.
And yet, at this year's Labour conference, this man was booed. Think about that. The man who, more than any other, gave the Labour Party 13 years at the helm to shape society into what they wanted it to be, was booed. The man who turned Labour from a useless, unelectable party into an electoral juggernaut that survived an unjust war and dozens of other, lesser events that would have toppled lesser governments.
It was, perhaps, inevitable that Labour would resent his success, because no modern political party (apart from possibly the Greens) resents and despises success more than Labour does. It was inevitable that the dour, unelectable Scot would force his way into the leadership, representing as he did the mean-spirited nature of those who would live off the success of those they despise.
And so we come to this curious, unexpected sensation. Something that I simply never considered possible.
I feel a twinge of sympathy for Tony Blair.
October 2, 2011 at 07:17










October 1, 2011 at 08:54




September 30, 2011 at 22:22




September 30, 2011 at 17:56




September 30, 2011 at 17:54




September 30, 2011 at 16:04







September 30, 2011 at 15:39




September 30, 2011 at 15:26







September 30, 2011 at 14:50







September 30, 2011 at 14:10







September 30, 2011 at 14:02