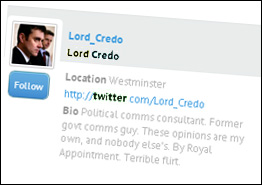 This week, there was a bit of a Twitterstorm when Twitter user Lord Credo, who posed as a spin doctor for the Conservative Party was revealed to be something of a charlatan.
Now, it's not exactly unusual for people to have an online persona, but it's very rare for people to maintain the persona when meeting up in real life.
And Credo managed to bluff professional journalists as well as many "lay people". Just think about that: the very people that Credo was supposed to be "briefing" were fooled by him. People whose very job entails a greater degree of bullshit detection than ours do by default. If even trained bullshit detectives were fooled, what chance did the rest of us have?
I fully admit it, I was completely fooled.
Part of it was that he had the "supporting cast" of journo's and other people that gave him credibility. He'd been interviewed by the Huffington Post. His tweets were just sufficiently opaque and his "confidential asides" were quite plausible.
He fooled a lot of people. It's bloody easy to be snide and sniffy after the event, but the truth is, very few people were openly skeptical (as far as I could see, anyway) about Credo. His inability to stick his hand in his pocket and buy a round were such a standing joke that I never questioned it.
Casual references to his new job at Sky leading him to upgrade his Jag to an Aston were done with just the right degree of self-deprecating smugness.
All this could have been perfectly harmless, really. We'd all be shamefaced and smacking ourselves around the ears for a couple of weeks, but no harm would be done. You could argue that obtaining beer by deception was ungentlemanly, but it's not the end of days.
But harm was done. People have been lied to, have had money "borrowed" from them, people have fed him and housed him out of the goodness of the hearts and have now got to live with the consequences of his behaviour. This is bad enough.
Something I find completely reprehensible, though, is people now making disparaging remarks about those who were taken in. Nobody likes to have their judgment found wanting. But to be ridiculed and pilloried for being kind-hearted is unacceptable.
The recent riots in London and elsewhere has shown twitter at its best, with thousands raised for non-twitterati total strangers.
The aftermath of CredoGate shows twitter at its worst, with uncharitable comments and a complete lack of even moral support for the victims.
I can't help but feel that these people are missing the point: when faced with someone you know apparently in a difficult situation, would your first reaction to be to check their bona fides, or would your first reaction be to offer such help as you
could?
And if your first reaction is to check those bona fides, what does that say about you?
(Photo Credit: First Post)
August 27, 2011 at 16:09







August 27, 2011 at 16:02







August 24, 2011 at 16:02




August 24, 2011 at 14:36







August 24, 2011 at 11:06









August 24, 2011 at 09:36




August 24, 2011 at 08:50