Supporting The Death Penalty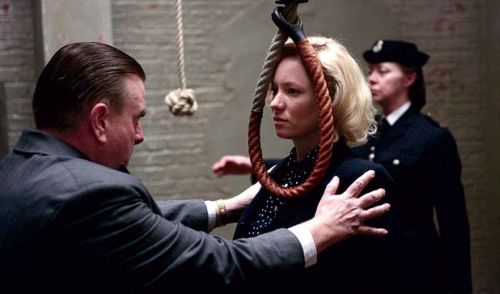 A Guest Post from James Garry.
On the 5th of August, DazPearce contributed an article to this organ entitled "Opposing the death penalty".
Mr Pearce's article, I feel, contained misrepresentations of the 'pro' capital punishment argument. His argument also relied heavily on the unhappy case of a Mr Stefan Kiszko – dubbed The greatest miscarriage of justice of all time – which is a well-meaning but sophistic example that should not be used to skew the debate in his favour.
Mr Pearce begins by acknowledging that his side (i.e., the anti-capital punishment side) sometimes uses emotional argument against the death penalty. He offers this small concessionary crumb after making an unfounded generalisation that pro-capital punishment campaigners employ emotional arguments to further their cause, and are less inclined to be 'level-headed' and 'rational' than their opponents.
I think this is a common tactic used to caricature social conservatives. It is a small step from being less rational to being altogether irrational. The problem I have with Mr Pearce's article is that to justify one unfounded claim he needs to make another: "That capital punishment is not about deterrence, it is all about lex talionis, i.e., retribution". The word "retribution" conjures images of raging, resentful people who are satisfied only by the snap of another man's neck. In short, less level-headed, less rational people.
He seems to rest his assertion that capital punishment is not about deterrence because, for a long time, no one has said it is about deterrence. Well, no one's told me that my car is low on petrol. Doesn't mean it isn't.
I have had several debates elsewhere with people who claim that capital punishment is not a deterrent. As yet, not one of my opponents has been able to explain this: In the five years since 1965 when the death penaltywas suspended, there was a 125% increase in crimes that would have attracted the death penalty. Since the last capital executions in 1964, Britain has experienced a doubling of the rate of unlawful killings (NB. the growth in population has been accounted for in this figure).
Clearly the death penalty does deter people from committing capital crimes. Nonetheless, the success of the death penalty as a deterrent is often diluted by claims that it is more about retribution than anything else. Well, no, actually it isn't about retribution.
Maybe it is a failure of imagination on my opponents' part, but do they really think that having a murderer executed brings any peace or any feeling of restoration to the families of murder victims? No, I don't think it does. I don't think the execution of the murderer comes anywhere close to soothing the unbearable grief, to quietingthe anguish or to sating the howling emptiness caused by the loss of a loved one.
If you truly desire to avenge someone's murder, you would keep their murderer in a state of perpetual, excruciating agony for the rest of their lives. That's retribution.
No, as a capital punishment supporter, I see capital punishment as a compromise: It would be wrong to exact revenge on this person. The best we can do is to execute him so that other murderers may be deterred from putting other families through a similar ordeal by grief. Capital punishment is a consideration of future murder victims and their families; it is not an act of vengeance against the murderer.
Mr Pearce tries to diminish the strength of the deterrence argument by asking "Is a predisposed killer really open to the prospect of thinking rationally about the consequences of getting caught, especially when many believe themselves tohave been assignedsome sort of mission from a higher authority?"
I would suggest this is stunningly naive. Most killers – outside of Hollywood films – are not exclusively deranged and are not totally incapable of rational thought. Most killers are bad rather than mad, and are perfectly capable of assessing the consequences of an act of murder. There are a few who are completely off their rockers, but they are in the minority. Nonetheless, we must also countenance the likelihood that even the utterly psychotic (NB. psychotic means delusional, not psychopathic) do not live in complete isolation from the real world and could still be deterred from their murderous actions if they retained some sort of unconscious fear of hanging.
I am not sure, either, that the death penalty would fail to stop some killers who kill "in the heat of the moment". Do we really, under provocation of the moment, lose all our ability to rationalise? Do we lose all our self-restraint? I would submit that the threat of the death penalty would prevent some people becoming uncontrollably murderous "in the heat of the moment".
Mr Pearce raises a further objection to capital punishment: That if it were legalised then we would see more crimes being added to the list of capital offences. Well, it might and it might not. Since the height of England's "Bloody Code" in the eighteenth century, the number of capital offences has only decreased. In 1823 the death penalty became discretionary for all crimes except murder and treason. By 1861 there were five capital offences. Hardly a slippery slope.
The most important matter Mr Pearce raises is that of the false imprisonment of Mr StefanKiszko. It was, indeed, a great miscarriage of justice and I defy any one to read his case and not be immensely saddened by it. However, this case is a very weak – and false – argument against the death penalty.
Forgoing that Mr Pearce's argument is purely hypothetical (that is, the death penalty was no longer in existence and Mr Kiszko was wrongly imprisoned rather than wrongly hanged), it would have been the judicial system at fault for the miscarriage of justice not the death penalty.
A very important fact that Mr Pearce may have overlooked or been unaware of is this: Mr Kiszko was convicted by a majority verdict. This is why unanimous verdicts are essential to our justice system. If a unanimous verdict were required, then a 10-2 verdict wouldn't have led Mr Kiszko to his sixteen year incarceration (or his execution, were the death penalty still in existence at the time).
But I know what Mr Pearce means. There have been cases in history were people have been wrongly hanged. This is unfortunate but no human system is perfect. No matter what we do in life, there is a risk of accidental death. Governments make policies all the time where people die as an unintended consequence of that policy. The wars in Afghanistan and Iraq and Libya have led to the deaths of people who did not deserve to die, people who were totally innocent. Innocent people die as a result of transport policies. Innocent people die because we arm our police forces. It is tragic but unavoidable and is not a robust argument against the death penalty.
The converse is also true: If you do not use the death penalty to deter crime, then you run the very real risk that innocent people will die in the future because their murderer has no real fear of the consequences of his crime. It cuts both ways.
As much as the anti-capital punishment brigade might not like it, supporters of the death penalty are wholly capable of dispassionate, rational thinking about the death penalty. I expect most supporters of the death penalty, similarly to me, want the death penalty reinstituted because of its success as a deterrent. We do not salivate at the prospect of the noose. Instead, I think we look a little further into the future than our opponents do.
Looking into the future we see the face of an innocent girl who has not yet been murdered. We conclude that if the threat of the death penalty could prevent her killer from killing her, then it is essential that we have a death penalty.
If you are concerned with protecting the innocent and the gentle and the law-abiding, you ought to support the death penalty.
August 20, 2011 at 03:23







August 18, 2011 at 03:20










August 18, 2011 at 00:10










August 18, 2011 at 01:52




August 17, 2011 at 19:59







August 17, 2011 at 19:55










August 17, 2011 at 19:24










August 17, 2011 at 18:47









August 17, 2011 at 16:39







August 17, 2011 at 15:51







August 17, 2011 at 15:18










August 17, 2011 at 16:10




August 17, 2011 at 14:48







August 17, 2011 at 16:35




August 17, 2011 at 14:02







August 17, 2011 at 13:22







August 17, 2011 at 12:51







August 17, 2011 at 12:38











August 17, 2011 at 12:01