Laurie Penny vs John Cooper QC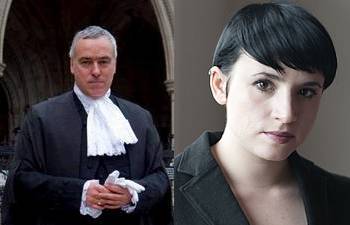 This is a short segment where Laurie Penny debated with John Cooper QC on Radio 5 about whether the sentences imposed on Charlie Jonnie Marbles and Gilmour was excessive, and – if so – why.
Laurie's points are, variously:
That 'violent disorder is a catch all charge relating to being on a demonstration'
That Charlie 'did not do anything violent'
That anyone with a sensible attitude to the prison system should agree that the sentence was outrageous.
That this is about the criminalisation of being on a protest.
John Cooper's points are:
That Charlie Gilmour was convicted of particular charges according to law.
That a series of incidents of Violent Disorder over a period of hours an atmosphere of mob violence is declared in law to be relevant case at hand.
That the sentence was well within the range laid down for these circumstances.
In the blogosphere, this has led to a targetting of the Judge concerned:

I'd say that this video is somewhat 'creatively' edited.
Though I'm something of a Laurie-Penny-o-Sceptic, but I think that the conversation about where this is political policing, reasonable policing, bad law leading to heavy handed enforcement which is not the fault of the police force or the Judiciary, over-enthusiastic political interpreation, or something else entirely, is an important one.
Laurie has agreed to appear on the Without Prejudice podcast for a debate with the legal hosts.
It will be interesting, and I will point it out the podcast when it is released.
Photo credits: John Cooper's Twitter icon, and Laurie Penny from a publicity shot.