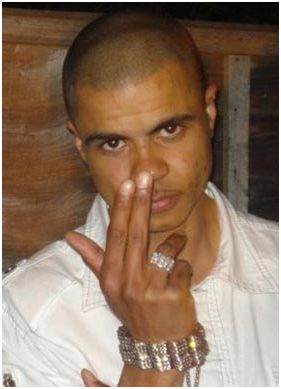 Ter'ast yer know man, der finger shot mi bruvver, an he ain't got no reason ter do dat. Mi bruv only fired off a couple a' rounds to warn der Babylon dat he ain't got no business interfering in der yardies an de Babylon shot 'im dead man. He nay de a street again man.
Now de bruvvers 'ave ter stay up all night setting fire ter da neighbours an' barbecuing der bruvvers cars ter teach de Babylon sum manners.
De bruvvs set up sum o' dem community outreach leaders to teach der Fingers how to stay out de way after Keith Blakelock and dey ain't learnt nuffink man, dey still fink dey rule de streets.
Where dat Bernie Grant when yer need 'im? We demand Justice, an' decent Gangsta rule fer Tottenham. Dem Babylon gotta learn sum respect man, and not go round shooting back at bruvvs what goin' bout der business.
Alternatively:
THE DEATH of a Tottenham man last night came after a pre-planned operation to arrest him, police have confirmed.
A 29-year-old man, named locally as father-of-four Mark Duggan, was shot twice by an officer from the Metropolitan Police's specialist firearms team CO19 in Ferry Lane, as part of the force's Operation Trident after a shoot-out at about 6.15pm.
The officer who was shot at appears to have been saved by his police radio, after a bullet was found lodged in it. The officer was taken to hospital but later discharged.
Or even:
His mum Pamela, 52, said: "Mark was my baby. He was a kind boy. He would have been 30 next month. It's a wicked world when a boy doesn't live to see such a milestone."
Hellooo Ms Abbott, how many millions do we have to pour into Broadwater Farm this time?
August 9, 2011 at 16:52




August 8, 2011 at 18:22




August 8, 2011 at 16:01




August 8, 2011 at 01:56










August 8, 2011 at 13:07







August 7, 2011 at 18:37







August 7, 2011 at 19:40




August 7, 2011 at 17:28







August 7, 2011 at 15:55







August 7, 2011 at 15:21









August 7, 2011 at 12:01










August 7, 2011 at 11:44







August 7, 2011 at 09:42







August 7, 2011 at 08:27







August 7, 2011 at 08:11










August 7, 2011 at 07:59