Anna Raccoon latest news (Updated)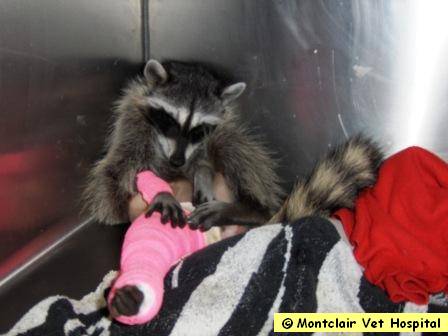 We've heard from the Boss again.
Anna has been back in hospital for a couple of days for a follow-up, and should be back home early next week.
Anna's tumour taken out a couple of weeks ago has been analysed in Paris, and they are as sure as they can be that they extracted all of it. The tumour was a secondary, which had developed around a primary tumour.
The primary is thought to be a little bit of tissue left behind from an old (very old) operation.
If anyone has Anna's mobile, calls will be welcome this weekend.
[Update: Sunday 9am – they've sent her home again. So good news, and we may hear more later or tomorrow].
Photo Credit: Montclair Vet Hospital.
August 7, 2011 at 17:56












August 6, 2011 at 22:52







August 7, 2011 at 08:16







August 7, 2011 at 13:14







August 6, 2011 at 19:05




August 6, 2011 at 18:20




August 6, 2011 at 17:40







August 6, 2011 at 16:41




August 6, 2011 at 16:40









August 6, 2011 at 15:31