The Best of British – A Challenge.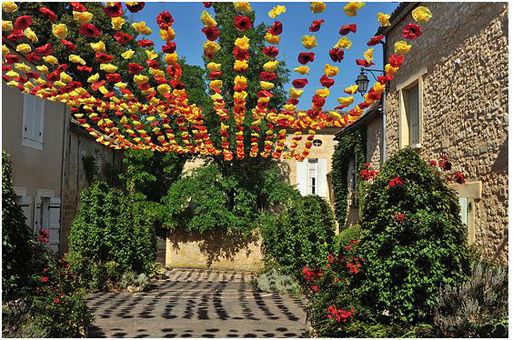 Mr G took the old crock out for a run in the French countryside this morning. He let me come along too.
We went to Beaumont du Périgord for breakfast, taking advantage of the French tradition of taking your breakfast with you to the local café, where you purchase a coffee to go with it – I can well imagine the hail of abuse that you would be met with in an English greasy spoon, arriving clutching a bag of goodies from the competition…here it is regarded as normal, obviously you buy your croissant from the baker you consider the finest, and you choose your coffee in the same way, no one would want to condemn you to eating Pierre's croissants just because they offered the best discount to the café…
A leisurely crawl across some of the finest Périgordine countryside, rolling hills bathed in the morning light, harvested fields, the sunflowers in full bloom, we paused only when the giant combine – the reason for our leisurely crawl! – in front of us stopped to let Mrs Moorhen and her minute day old chicks cross the road to a rare puddle of water. We have had no rain for months, apart from one day, and ponds and rivers are nearly dry.
We went via the 'back road' – a land of tiny homesteads with plentiful veg gardens, chickens roaming, ageing blue pantaloons, patched incessantly, hung out to dry, and gnarled crones already harvesting the potimarons that will keep them alive during the winter months.
These are not the expansively renovated stone palaces beloved of the English with their shutters all painted the same tasteful colour, bedecked with satellite dishes and shiny 4 x 4s in the driveway – this is the 'old' Périgord, where the average household – not personal – income is around 10,000 Euros a year. The average. Many, many, homes exist on far less.
Yet these people are past masters at having a 'good time' on what appears to be fresh air.
I was privileged once to be invited to join the ladies of Beaumont as they went about their annual task of making flowers to decorate the village. It was the year of the Félibrée, the celebration of all the Occitan traditions, and thus they were grateful for any extra hands. They sat in the shade of the Marie, conjuring wisteria and dahlias out of the surplus coloured plastic created when you stamp out the hole for the handle in a supermarket shopping bag – nothing is wasted round here. They made thousands and thousands of them, gossiping in the afternoon sunshine.
They do it every year, although to a lesser degree, and this year was no exception; we drank our coffee under a 'rosy' sky, the sunlight permeating through hundreds of exuberant crimson chrysanthemums strung in line across the village square. Shutters flew open in yellow stone houses that looked as though they might be deserted, locals shouted out a morning greeting to each other. The early risers were already inspecting the vegetables on offer at the market – should they buy a melon, their own were not quite ripe? A lone accordionist played in a shady corner, that distinctive Occitan melody that renders every song seemingly identical.
Breakfast rarely comes in a more perfect form – and it made me reflect.
I spend so much time reading the British press, listening to the British news, and it is an unending diet of fear and despair. The Blogosphere, myself included, finds something new to carp about, whine about, criticise, every day. The Main Stream Media invents a new fear to drive us back under the duvet each day. We feast on corruption, imminent disaster, peril and confusion.
'Could I do this in England?' I thought. What would I have done this morning that could fill me so full of the joy of life? After so many years of my view of England being percolated through the lens of the media, I was stumped for an answer.
I don't believe that there are not still corners of simple pleasures in England that are available to all – even without deep pockets. I don't believe that you have to have an expensive car or high definition television or tickets to the centre court in order to still be filled with the joys of life. My outing cost all of one pound.
So that is your challenge for the day – convince me that Britain is not all doom and gloom, concrete jungles and corrupt police, politicians and journalists.
You have one pound to spend and two hours to fill…..your starter for 10….. July 10, 2011 at 19:09




July 10, 2011 at 00:55




July 9, 2011 at 20:41







July 9, 2011 at 18:20










July 9, 2011 at 18:49




July 9, 2011 at 17:22










July 9, 2011 at 17:00




July 9, 2011 at 16:18










July 9, 2011 at 16:06







July 11, 2011 at 10:24




July 9, 2011 at 14:46




July 9, 2011 at 14:15










July 9, 2011 at 14:23




July 9, 2011 at 13:10







July 9, 2011 at 13:03