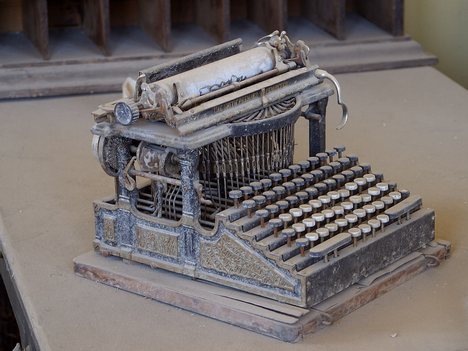 Jumps Over the Lazy Dog" – the pangram that we all knew by heart once upon a time. Those of us engaged in the process of mechanically transcribing the spoken word, that is. It was drummed into us as we sat in front of ageing – even then – Remington typewriters whose keyboards were hidden from us by a rough wooden board.
Fingers punching up and down, we learnt the placement of the 26 letters represented in that phrase by heart.
To this day I cannot type fast on a laptop keyboard. A laptop demands a lighter touch, fingers held away from nearby keys, no space for a manicured nail to drop down between the letters. It is an entirely different technique.
Give me an old fashioned keyboard, and my fingers fly, in light or darkness, it makes no difference to me – for I never look at the keys. While researching this post I found a 'typing test' – try it – I still hit 59 word-units a minute. Now try doing that by looking at your keyboard. You waste too much time looking from text to keyboard and back again. It can't be done.
Amazing isn't it, that in an age when speed and efficiency are everything, we have abandoned such a simple technique to speed? Not only abandoned the technique, but the means by which we once achieved it. Godrej and Boyce closed the doors of their factory today. You've possibly never heard of them. They were the world's last manufacturer of the old fashioned eco-friendly, upright typewriter. The machine with the perfect carbon-ribbon footprint. No electricity required.
In recent years their output has been confined to the Indian government – departments that demanded a typing test on an old fashioned 'upright' before they would let you near their computers.
After the last war, there was a critical shortage of typewriters in Britain; I found the history of one enterprising fellow who specialised in recycling war damaged typewriters and reconditioning them for sale to all the major newspapers.
Journalists everywhere bashed out their copy on a Remington 'Noiseless' or an Underwood. I can't see that great literature is ever going to be produced by using your thumb to tap the 'P' key three times until it reluctantly disgorges an 'r' onto the page – and the phone guesses that you were trying to say 'perv'……..
You may enter twz d bst of x, twz d wst of x with the speed of light with your thumb, but will it entrance future generations with the resonance of Charles Dickens 'It was the best of times, it was the worst of times'?
Now the world can only ponderously pick out letters with a stylus or abandon themselves to the predictive text software of the mobile phone. The new Blackberry Curve Touch doesn't even give them the option.
April 27, 2011 at 16:45







April 27, 2011 at 18:38







April 29, 2011 at 00:00




April 27, 2011 at 13:24




April 26, 2011 at 19:56




April 26, 2011 at 19:55




April 26, 2011 at 15:27




April 26, 2011 at 14:19




April 26, 2011 at 09:41







April 26, 2011 at 09:37







April 26, 2011 at 08:44