"Don't Let them Eat Brioche."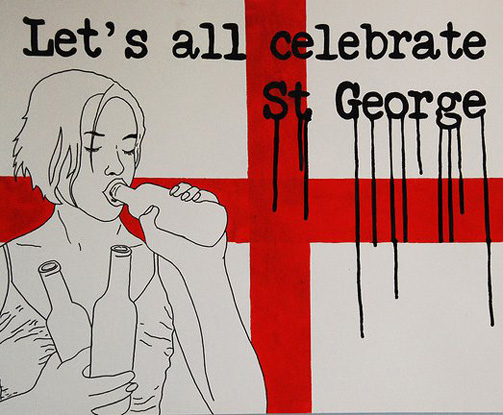 Doesn't it make you proud? The Plucky British?
Celebrating St George's Day by starting a revolution demanding that the availability of cheap brioche be denied to them?
Brave Trustafarians rejecting the gated communities in which they grew up and demanding a kettled one?
Fighting the Agents of the State with just their bare petrol bombs?
Scorning the generous housing benefit that humiliated their parents and holding out for the right to proudly squat in someone else's rat infested derelict property indefinitely?
Existing below the poverty line on the insulting social security – and still managing to be 'too fat to work' ten years later.
The Guardian has published some absolute plums today.
"96% of the 700 people surveyed said they didn't want another supermarket."
"Our objections clearly outlined how opening this Tesco store would pose a threat to public safety."
"Our community is well known for having people who, if they are silenced, will act in a way that will ensure they will be heard."
Ending with an out and out threat to public safety:
"Bristol City council has a clear choice now: continue to let Tesco trade and risk last night becoming a regular occurrence or support the community it is supposed to represent and tell Tesco to leave."
655 people threaten to firebomb Tesco again in the name of democracy.
"We don't want no cheap brioche".
As the rest of Europe turns its eyes towards Britain today as we raise our National flag in homage to Saint George – you can hear the laughter from Cracow to Calais.



April 23, 2011 at 13:07









April 23, 2011 at 11:55




April 23, 2011 at 11:54










April 23, 2011 at 10:52







April 23, 2011 at 10:51




April 23, 2011 at 10:20







April 23, 2011 at 10:02









April 23, 2011 at 10:46




April 23, 2011 at 09:12







April 23, 2011 at 08:56







April 23, 2011 at 08:48







April 23, 2011 at 08:28










April 23, 2011 at 08:17







April 23, 2011 at 11:33