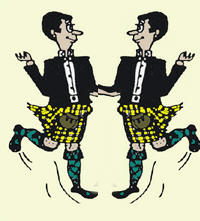 This Raccoon happens to have the rarest blood group there is – AB-. I share it with just 1% of the population of either France or England; you might expect the French to be clamouring for a drop of Raccoon juice coursing through their veins.
They are not – for the simple reason that I am English by birth, and not surprisingly have spent long periods living in England. The French simply do not want blood from anyone who so much as visited Britain between 1980 and 1996, far less resided here on a permanent basis.
They have had their own problems with infected blood – the Health Minister and two government officials were gaoled in the wake of the scandal of 4,000 people being given infected blood. They don't wish to add to the problem by taking blood from a group they see as high risk resulting from the CjD/Mad cow disaster.
Am I screaming the odds that the French government is sending out a message that the English – even those who have never eaten beef – are simply not to be trusted?
Er no, but then I am not part of that precious high stepping, pouting, professional offence taking group known as the anti-homophobia political Gay Wardens.
They have come up against a similar ban in Britain – those gays who have engaged in a mutual exchange of body fluids in the past ten years with a gay partner are requested to be on their honour not to donate blood. Not tattooed with a sign on their forehead to ensure that they don't, but just on their honour to tell the truth. Cue much lifting of skirts and faux hysteria.
This morning the Guardian is hosting a predictable howl of outrage from one of their number:
"What message does a government send out when one group cannot give blood even if they have only ever had safe sex?"
"This proposal won't help the young woman with a rare blood type, knocked over by a car, bleeding profusely."
Neither will being given a dose of Aids either – do you mind giving her an element of choice in the matter Sweetie Pie?
Speaking as someone with a rare blood group, I would just as soon take my chances on the availability of the correct plasma from a group that did not include intravenous drug injectors or high risk sexual activity, but of course this option should not be open to me according to Patrick Strudwick.
In the name of ringing the 'bell for British gay equality' out across the world, which appears to be far more important to him than my health, he wishes his blood to be mixed into the general package and distributed to me on the grounds that this is more preferable than 'if a member of my family died because blood was not available to him from a member of the gay population'  – or rather one who wished to engage in a pedantic conversation as to whether his method of sex was safer than another method of gay sex.
Frankly my petal, I'm not really interested, any more than I am in whether one method of intravenous drug taking in a Glasgow hovel is better than another. I have absolutely no objection whatsoever to be given blood from a rabid, Guardian reading, shaven headed Lesbian with a tattoo of Che Guevara on her bum, (though I'd rather you didn't tell me, it might delay my return to blogging whilst I rethink my philosophy) nor from a mincing queen with better ankles than I, and an extensive repertoire of dirty jokes – so long as she hasn't engaged in practices ranging from intravenous drug-taking to intravenous gay-taking that have a high probability of  introducing Aids into the cocktail of ailments that I might be suffering from after this hypothetical car crash.

7



April 12, 2011 at 17:38


11



April 12, 2011 at 17:40


15



April 13, 2011 at 14:12
↑