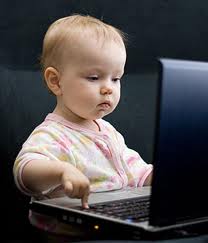 One of the mysteries of blogging is 'who are you actually addressing'? Who are the people responsible for the 'hits' on your site?
The only way I can write is to address Gloria and Saul – they are real people, I feel comfortable talking to them. Everybody else is welcome to eavesdrop – and I'm delighted that you do.
I have had my suspicions as to the identities of some of the other characters who arrive here on a daily basis – I'm looking at you Randy Hack, directly at you – but it turns out my exotic fantasies are nowhere near as far fetched as the truth.

Did you know that 80% of 'under fives' are on line at least once a week? Yep, toddlers, surfing the net, using Skype, and chatting in the forums?
If you look at the figures for 3 to 5 year olds, 25% of them are on line daily.
Did you realise that some of your readers aren't out of nappies yet?
Mind boggling!
OK, adapt and survive.
Goo, goo, ga ga, itchee cou cou cou…..



March 17, 2011 at 19:14










March 17, 2011 at 20:54




March 17, 2011 at 18:02




March 17, 2011 at 17:52




March 17, 2011 at 17:13




March 17, 2011 at 16:38




March 17, 2011 at 16:21




March 17, 2011 at 16:12




March 17, 2011 at 16:09




March 17, 2011 at 15:44