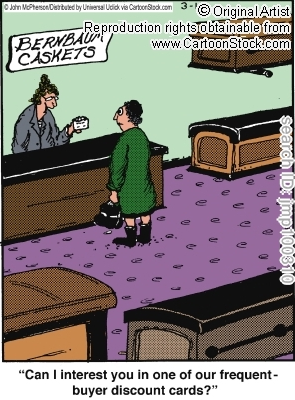 Liverpool Council's Spring Sale of cremations is about to end – from the 1st April the price will increase by £156 – those council tenants who thought all their Christmas's had come at once when they were relocated from Scotland Road to leafy Kirby, which unfortunately doesn't have its own crematorium, will suffer a double penalty, their bill as non-city residents will double to £1,298.
A spokesman for Liverpool Council said (with a dead straight face):
"The unprecedented cuts in funding made setting the council's budget extremely challenging and there was a determination to protect frontline services where possible.
Don't all rush at once now! Form an orderly queue.
March 13, 2011 at 06:05







March 10, 2011 at 09:58




March 9, 2011 at 20:16







March 9, 2011 at 23:35




March 9, 2011 at 20:04




March 9, 2011 at 19:59







March 9, 2011 at 19:57










March 9, 2011 at 20:07










March 9, 2011 at 21:19




March 9, 2011 at 18:47




March 9, 2011 at 17:54