Sister Eva's Problem Page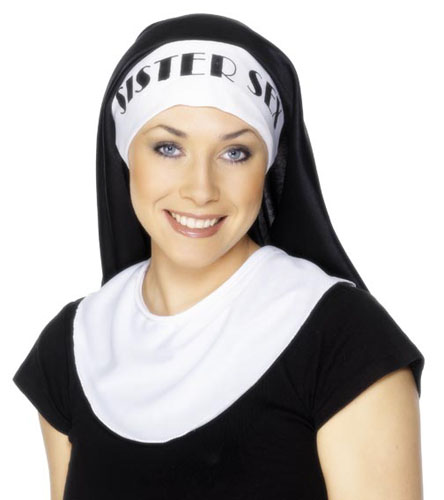 All your problems solved with our straight talking no nonsense Sister of Mercy!
Dear Sister Eva,
I have been a serving officer in the Parachute Regiment for 8 years and have recently completed my third tour of Afghanistan. In my spare time I enjoy flower arranging and dressing in a very feminine way. However, I have size 12 feet and I find it very difficult to find suitably elegant high heeled shoes. Should I approach the MOD for help? Thanking you,
Brian, Colchester
Dear Brian,
On NO account approach the MOD. If you do, first there will be a three month delay while a procurement plan for the shoes is drawn up. The procurement plan will show that the shoes will cost £300 and be available in two months time. It will then be discovered that there are design faults with the shoes and the project will be put back another 6 months to allow the shoes to be reconfigured. 18 months after the revised deadline it will be discovered that even though the initial design faults with the shoes have been corrected, they are unsuitable for wearing at night and the project will be scrapped at a cost of £1.2 million pounds. A range of footwear for the discerning cross dresser can be purchased on line for about £100 and I suggest that you try there.
Dear Sister Eva,
I am the leader of a medium sized political party and have recently been appointed to High Office as part of a pact with a larger party. My problem is that things haven't been going well in the polls and I seem to have been neglecting my wife and our love life has waned. I am planning on cooking a special romantic meal for my wife to re-ignite our passion, but obviously it should have no political symbolism. What meal do you suggest?
Nick, Sheffield
Dear Nick,
Barnsley Chop and Crumble would seem appropriate
Dear Sister Eva,
I am flamboyant and camp and until recently I was chief designer for a prestigious French fashion house. However, I was forced to resign because I asserted that Hitler was a jolly good fellow who knew had to deal with the Jews, unfortunately forgetting that he was also a bit tough on Man Love. How can I rehabilitate my reputation and career with a new design? Any tips?
JG, Paris
Dear JG,
I understand the post of junior designer at Primark is available. Can I suggest a large yellow felt star attached to the lapel might catch on? Also I believe that long numbers tattooed on the arm are this year's must have accessory.
Dear Sister Eva,
I am the chief executive of a large Metropolitan Council and I have been asked to cut spending back 2008 levels. How can I best protect my vast salary?
Derek, Birmingham
Dear Derek,
It is important that you repeatedly point out that the job is important and local authorities need to "compete with the private sector for the very best talent". Please DO NOT point out that your pay and pension exceed anything in the private sector and that you were unable to hold down a job therein.
Dear Sister Eva,
I am a highly paid premier league footballer. Although I am defender I like to get into the box and score whenever I can. How can I improve?
Ashley, Cobham
Dear Ashley,
I feel shooting practice is important. Pin a target to the work experience boy and try shooting him from different angles and in different light conditions. Also, I recommend dogging.
Dear Sister Eva,
What's the best way to enforce a No Fly Zone?
iDave, Oxford and London
Dear iDave,
You already have one, it's called the RAF.
That's all for now
In love and light!
Sister Eva Longoria
March 7, 2011 at 10:19




March 7, 2011 at 03:56




March 6, 2011 at 23:42




March 6, 2011 at 17:54







March 6, 2011 at 17:58







March 6, 2011 at 22:23










March 6, 2011 at 23:43




March 6, 2011 at 14:49







March 6, 2011 at 18:03




March 6, 2011 at 11:37







March 6, 2011 at 10:22







March 6, 2011 at 10:16







March 6, 2011 at 10:16










March 6, 2011 at 08:09