Carol Hill – School Dinner Lady.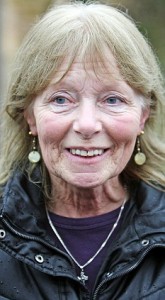 I spoke to Carol Hill last night, the Daily Mail had given her my number here in France, and she rang – in tears. Quite overcome by your generosity. It wasn't just the money, she said, it was the knowledge that so many strangers wanted to show her they cared. Almost exactly the words Nick Hogan and later Sheila Martin used.
I told her that my original plan had been to try to raise the £303.72 that had been deducted from her compensation for her temerity in speaking to the press after they approached her. I had imagined that you might be fairly generous, but that I should be able to afford to make up the shortfall.
It took you just 24 hours to step up to the collecting plate, urged on your way by the helpful blog posts of Subrosa, Leg-iron, Julia M and of course the originator of the idea – The Penguin.
All day and all night the unmistakable 'ping' of yet another e-mail confirming one more Paypal donation rang through the house – quite extraordinary given that you were all struggling with Paypal, difficult enough at the best of times, but near impossible in French!
I still don't know the precise final total, some of you were defeated by Paypal and have sent your donations direct to the account I set up – it will be two or three days before they filter through to the statement.
However, I can tell you that you comfortably exceeded the original target, and today I shall be arranging a ceremonial cheque with Carol's Union for the £303.72 – hopefully to be presented in a way that will cause Great Tey Primary School maximum embarrassment and publicity – the balance I will forward onto her when the snail like French banking system gets it all in one place.
Yet again you have bought a smile of relief to the face of someone who was quietly being crushed by the full majesty of the State. That is a remarkable achievement, The Blog Society at work once more.
I sometimes wonder if there is any other purpose to a blog?
Thank-you, on behalf of Carol, your contributions and the thought behind them has been greatly appreciated.
February 15, 2011 at 20:46










February 15, 2011 at 22:55




February 16, 2011 at 07:15




February 10, 2011 at 20:35







February 9, 2011 at 14:09










February 9, 2011 at 14:39




February 8, 2011 at 18:10




February 8, 2011 at 17:47







February 8, 2011 at 22:22




February 8, 2011 at 15:34







February 10, 2011 at 20:34







February 8, 2011 at 11:39