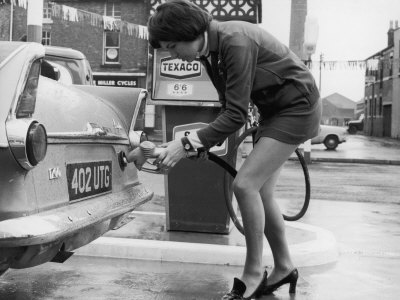 I'd like a show of virtual hands, please, from those readers who have recently filled up their petrol tank with the usual care and control and yet who have arrived at the cashier's desk to find that they have over-shot their expected sum by the aggravating 1p.
This has happened to me a lot recently and, since I am sporadically required to examine other people's petrol receipts each month, I notice it has been happening to other people too.
The round-summed tickets boasting £80.00, £90.00, £70.00 or even £50.00 appear to be a thing of the past. Here, in abundance are VAT receipts for £80.01, £90.01, £70.01 and of course £50.01.
When I last filled up, having noticed that neither I nor other people seemed to be able to pay a 'round figure' for their motor-fuel, I resolved to put a mere £30.00 in my car's tank; I had that sum in cash in my purse and I knew it would get me through the rest of my work-travel week. Confidently, I watched the rolling-total with as near to an eagle-eyed stare as I could manage. I eased my grip off as I neared £30.00 and watched the pump register the ponderous trickle I was allowing into my tank only to see … £29.98, £29.99, £30.01.
Crossly, I sluiced a bit more juice into the tank, determined not to pay an extra 1p and thought I'd be able to stop at £40.00 on the nail. Once more I dribbled the unleaded in at a pedestrian crawl until I reached £39.97, waited considerable dreary seconds until I'd bought £39.98, waited a few more interminable seconds until the display read £39.99 and felt I knew when to expect the resounding £40.00. Foxed once again, the dial skipped £40.00 and flew straight to £40.01.
By now I was enraged and set about getting the next – and originally involuntary – £9.99 into my tank as fast as possible so that I could dribble towards my absolute day's limit of £50.00. See previous paragraph for details of careful trigger control. Same attention to detail, same inexplicable overspend.
£49.97 … £49.98 … £49.99 … £50.01!
Boy, was I cross.
Having 'returned' the petrol nozzle to its cradle with as much violence as I could without actually breaking it, I strode to the garage office with purpose verging on menace, as I am sure the CCTV footage would prove, had things actually come to blows.
I queued. I got to the front of the queue. The man said "£50.01". I said "No". The man said "What?" I said "Your pump is putting an extra 1p on. I'm not paying the 1p". "No, no, no, no, no, no" said the man at the cash-register, "No, that isn't true".
"I only wanted to put £30 quid in but your pump put in £30 quid and 1p, so I went for £40 quid because I always put in round figures but then it went to £40 quid and 1p so I tried for £50 quid and guess what? £50 quid and 1p. I've already spend £20 quid more than I wanted to and I'm not paying the 1p. I'd like not to pay the other 2p either but I'm not going to push the point now. Suffice to say that either your pumps are set to run over by 1p or you're pressing a button behind the desk. Which is it?"
"You don't have to pay the 1p Madam".
"Correct. I'm not."
"That'll be £50.00 Madam."
"Good. Here's £50 quid. And I want a VAT receipt too."
"OK Madam."
So, come on, who else has suddenly found they can't manage a round sum at the petrol pumps? We all know petrol and diesel are already cripplingly expensive and are taxed to keep the country afloat. But we should still be able to pay what we want and when we want each time we visit the garage, shouldn't we?.
So who is getting this extra 1p? The Government? Yes, sure, because each 1p will be subject to its own infinitesimal bit of tax. The petrol stations?
Only data can tell us that.
So. Hands up. Anyone else noticed this?
Gloria Smudd



February 7, 2011 at 11:20




February 6, 2011 at 18:10




February 6, 2011 at 17:32




February 5, 2011 at 23:55







February 5, 2011 at 18:35




February 5, 2011 at 17:23







February 5, 2011 at 17:02







February 5, 2011 at 16:48










February 5, 2011 at 18:30




February 5, 2011 at 14:01










February 5, 2011 at 14:20




February 5, 2011 at 13:43







February 5, 2011 at 13:24







February 5, 2011 at 13:19




February 5, 2011 at 12:53










February 5, 2011 at 12:56







February 5, 2011 at 14:02




February 5, 2011 at 12:51







February 5, 2011 at 14:05




February 5, 2011 at 12:41