Public Libraries Censoring Bloggers.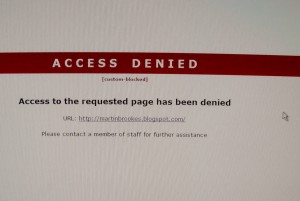 Censorship of the press is considered a heinous crime best avoided even by those political parties who would cheerfully see the UK emulate North Korea in all manner of things.
Can you imagine the outcry if Oxfordshire County Council formally announced that no longer could you read the Guardian in their public libraries because they disliked an article published therein? Twitter would be ablaze, journalists outraged, and questions asked in parliament!
Yet just this week alone, a similar fate has befallen two bloggers, and the silence is deafening – even from within the blogosphere.
The blogsite 'Nutsville' has upset the Westminster Council head of legal, Peter Large. Quite apart from the usual threats of action for defamation, including demands to the web host asking them to censor the posts – they have also blocked the web site from being read in council premises, which include public libraries. The FOI request that has been sent to the council asking for the reasons behind this move – and pointing out that it may be in partial violation of The Human Rights Act 1998, Article 10, Freedom of Expression – must be answered by 23rd February, and may also produce a list of other political sites blocked by the council, which should be of interest.
You may want to read the full story on Nutsville's own site.
Up in Rutland, a similar fate has befallen Martin Brookes, who specialises in stories regarding his local Rutland Council. He too, upset the council. His site is also blocked in public libraries.
If a site should host material which is defamatory, then taking legal action is perfectly acceptable – it is a risk that all bloggers must run, and we should comply with the law.
However, local councils taking pre-emptive moves to block a web site from being read by those using their public libraries, before any such defamation has been shown to occur is another matter all together.
Why is this considered acceptable against bloggers, but would create outrage if practised against the main stream media?
Is anyone aware of other instances of bloggers being censored in this way?
Do any of you have the time to drop a FOI into your local council's IT department to see how wide spread this practice is, and which blogs are involved, so that we can get a picture of what is happening country wide?
We need to nip this one in the bud – public libraries may be run by local councils, that doesn't give them the right to decide what we read.
February 4, 2011 at 01:21







February 4, 2011 at 09:20




February 4, 2011 at 01:07




February 3, 2011 at 22:22







February 3, 2011 at 22:24




February 3, 2011 at 21:11




February 3, 2011 at 20:12









February 3, 2011 at 20:18




February 3, 2011 at 19:02







February 3, 2011 at 18:33







February 3, 2011 at 18:21







February 3, 2011 at 18:09




February 3, 2011 at 17:45










February 4, 2011 at 11:33










February 4, 2011 at 12:50