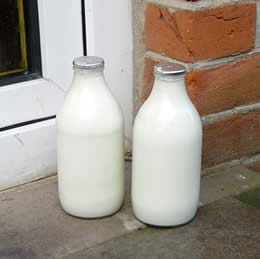 A new eco friendly milk bottle has been invented (or is it recycled because the inventor first thought of it in 2007). A papier-mâché version. If you're wondering how it doesn't disintegrate then be comforted by the fact that it has a plastic liner. So it won't go splodge in the fridge.
The new bottle is claimed to be more environmentally friendly than the common plastic milk carton. That's because it uses less plastic just for the inner liner and it uses a nice green waste paper product for the outer carton.
However I would argue that the glass milk bottle is the most eco friendly method of transporting milk.
Why? Because the glass bottle can be reused again and again and again and this is the second best form of being green. The three R mantra of environmentalists being Reduce, Reuse, Recycle.
We can't do much about reducing our milk consumption, but we can reuse the storage medium if it's glass. And then when they gets used up when the bottle breaks it can be recycled. A papier-mâché can't be reused. A papier-mâché can be recycled but only a dozen times at most.
The reuse bit is dependant on their being collection facilities to collect unbroken bottles but this is just a different thing that needs to be done similar to all the changes in land fill collection methods – the weekly bin collection to you and me. The different thing being a small refund on unbroken milk bottles. It could be argued that collecting all these milk bottles and taking them back to the diary is a lot of extra work but I would argue it's no different to all the extra work in recycling the cardboard milk cartons.
But then you would ask about the initial manufacturing costs as everything has to have it's overall CO2 footprint examined and raise the point that it takes a lot of energy to produce glass whilst paper doesn't need nearly as much especially if the papier-mâché is already a waste product. Whilst it is true that glass is a very energy expensive product to make from it's original raw material of sand, mixing it with glass lowers the energy requirements and it uses up recycled glass. So here the papier-mâché wins out. And the papier-mâché version is made from a renewable product namely trees so there is a never ending source of it's raw materials.
We then come to the end of life issue. With papier-mâché bottle it will eventually end up in a landfill site or hopefully in a composter, so long as the consumer has pulled the inner liner out and separated it. A glass bottle should never thrown be into a landfill site as it can always be recycled. For the greenies the glass bottle should win out here since it means that their precious trees aren't chopped down.
And then we come the inconvenient truth that the cardboard bottle is made in Turkey and transported via expensive CO2 burning methods to the UK and it is more 30% expensive than plastic bottles.
SBML