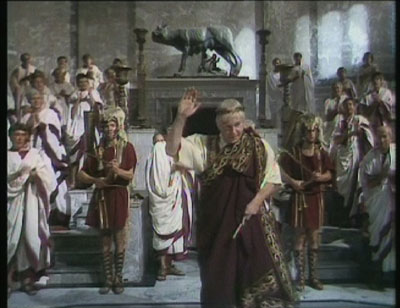 The Labour Party has a faux election where the crown of Imperial Marxism is at stake after the mob (us) have deposed the previous Emperor. Two effete brothers fight to the death, both sons of the rich house of Ralphus Marximus Maximus Germanicus. The younger brother has the support of the praetorian guard of the Unions and is elected Emperor. The losing brother retires to the Northern frontier to lick his wounds and become the director of a football club.
Meanwhile lurking at the back of the Senate, is the leering former hardman of the previous Emperor Brownus Maximus Cockupus, Maximus Selfinterest Ballsi and his scheming and ambitious wife,Livia Yvetta.
The Imperial Emperor of Marxism has a right hand man Alanus Johnsoni.An acolyte of Selfinterest, Spadus Belardinelli decides to investigate and find dirt and scandal upon the Alanus familia.
He discovers rumours abound about Alanus and his fidelity, Alanus wife is also alleged to be having an affair with a lowly slave of the State, one Closus Protection Squadus.
The die is cast, the knife is flashed, Alanus is to be exposed in the forum in the Sunday scrolls courtesy of Spadus. Squadus is called before the Leader of the Praetorian Guard for unprofessional conduct, Alanus resigns, the Emperor is aghast ! Infamy Infamy they have all got it in for me !
Maximus Selfinterest and his wife Livia Yvetta move one step closer to the throne they want and need with all their being.
The Praetorians of the Unions declare themselves content.
You cannot make it up.
Andrew Withers
January 21, 2011 at 19:48







January 21, 2011 at 19:17




January 21, 2011 at 12:00










January 21, 2011 at 12:19




January 21, 2011 at 11:08




January 21, 2011 at 10:47







January 21, 2011 at 11:22




January 21, 2011 at 21:06




January 21, 2011 at 09:16