The New Year Crush to Get Insured.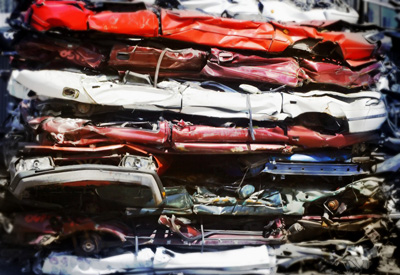 The combination of the 'libertarian' (?) Lib-Dems and the 'rolling back the State' (?) Conservatives are bulldozing their way to ever more impressive authoritarian heights.
If your car is uninsured it is liable to be crushed (and shipped to China as scrap, no doubt!)
Not merely if you are driving whilst uninsured, which has been the case since 2005 – the police chew up around 500 cars a day under this power – but now for owning a car which is uninsured.
Mike Penning, the Road Safety Minister is, in short, about to use his delegated powers to change the law for motorists and make it an offence to 'be equipped to commit a crime' – ie. To own a car which you could potentially drive on the road uninsured. The regulation, Continuous Insurance Enforcement (CIE), is expected to get the go-ahead within weeks.
There are many reasons why you might own an uninsured car – apart from the obvious examples of classic car owners who only drive them in the summer, to cars currently undergoing reconstruction in some suburban garage, to the District Nurse who realises that her insurance has inconveniently run out before pay day and who nobly takes the bus to work – only to find that her car has been crushed by our State Police on her return.
Now before you all jump up and down and tell me of the horrors of someone you know who was paralysed for life following a road traffic accident with an uninsured driver, I am aware that uninsured and untraced drivers kill 160 people and injure 23,000 every year.
I am also aware that according to the Motor Insurers Bureau, uninsured drivers are FIVE times more likely to be engaged in other criminal activity. The Motor Insurers Bureau claim that 40% of cars seized by police whilst being driven by an uninsured driver are never reclaimed. From which I deduce that uninsured drivers are far more likely to be people who couldn't give a monkey's about the change in the law, possibly do not even have permission to drive the car they have just been stopped in and couldn't care less if it is crushed or not. They will merely steal another one, change the number plates and continue as before. Recent research shows one in five uninsured drivers fail to stop at the scene of an accident they have been involved in – this proposal will do nothing to help that situation.
Those like the classic car enthusiasts do not need a SORN declaration, and the long time restorers will have dutifully filled in their SORN paperwork and be in the clear.
The only people the new law will actually impact on and forfeit vehicles from, will be a few hard up individuals like my District Nurse example, or a student waiting for his grant money to come through, who have been 'caught short', even though not driving the vehicle.
There is also the small problem that it is actually the driver, not the car, which is insured. If I insure my car with myself as the sole driver – and then lend it to you, who are insured to drive any vehicle – will the car be considered to be insured or not? If you hit someone whilst driving my car, my insurance is irrelevant – it makes no difference whether I am insured or not – it is your policy that will be called on.
It is said that one reason for this change is the estimated £30 a year premium on all insurance policies to cover the costs incurred by uninsured motorists – if that was really a concern, then a premium on fuel, which HAS to be used by all drivers regardless of their insurance situation, would have cured that ill more effectively than a tax based on number plates and registration with the Motor Insurance Bureau. In addition to solving the problem of insurance dodging, it would collect the most revenue from those who use the road most, and/or those who drive the thirstiest vehicles. Even the criminal fraternity would be contributing!
No need for Parking Meter attendants to peer at the windscreen to see if you are taxed, no need for a central database, no need for the Police CCTV cameras to monitor the movements of all vehicles……
Can anybody come up with a better solution?
January 18, 2011 at 18:48




January 11, 2011 at 18:51




January 11, 2011 at 05:06




January 10, 2011 at 21:12







January 10, 2011 at 15:10










January 10, 2011 at 10:16




January 9, 2011 at 18:51




January 9, 2011 at 17:28




January 9, 2011 at 17:17




January 9, 2011 at 15:54




January 9, 2011 at 15:20




January 9, 2011 at 14:37







January 9, 2011 at 13:33







January 9, 2011 at 13:23




January 9, 2011 at 12:12




January 9, 2011 at 11:56







January 9, 2011 at 11:18










January 9, 2011 at 10:51




January 9, 2011 at 10:43




January 9, 2011 at 10:42