Not in front of the children.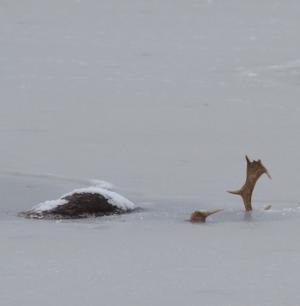 In the United Kingdom the term 'Country Park' has a special meaning.
The purpose of a country park is to provide a place that has a natural, rural atmosphere for visitors who do not necessarily want to go out into the wider countryside. Visitors can enjoy a public open space with an informal atmosphere.[They] may have facilities such as car park, toilets, maybe a cafe or kiosk, paths and trails, and some information for visitors.
Imagine the dumb struck horror of the city dwellers who ventured into Spennymoor country Park expecting a Disneyfied version of nature…..
Why there they were, tugging little Jeremy and Jemima along to see Rudolph and Santa…..and they discovered nature in the raw.
After several days of one of the harshest winters we have experienced in the UK – some of the little Bambi's had perished in the cold, in the middle of a ruddy great lake.
"Their fresh hoof marks could be seen leading to where they crashed through the ice to their deaths."
And can you believe, no one had risked their lives to remove these carcasses from the frozen lakes? The RSPCA ignored their frantic phone calls saying that they were prioritising living animals, and little Jeremy and Jemima were traumatised I tell you.
Parents, who visited the park with children, spoke of their shock, with one saying: "We came especially to see the deer because the kids think this is where Santa's reindeer live." Others, suddenly realising what lay below the frozen surface, quickly ushered children away.
One woman, who asked not to be named, said: "My son was distressed and we did not feel comfortable. It was an awful sight and nothing seemed to have been done about it.
Yes, see photograph, there is a whole antler sticking out of the snow in the middle of a vast lake.
The 73-acre deer park is provided free of charge for those who want their children to catch a glimpse of nature, perish the thought that they should do so.
Does anybody tell the little darlings where Turkey Twizzlers come from – or is that too much information for them?






December 20, 2010 at 17:01




December 20, 2010 at 15:29










December 20, 2010 at 19:08