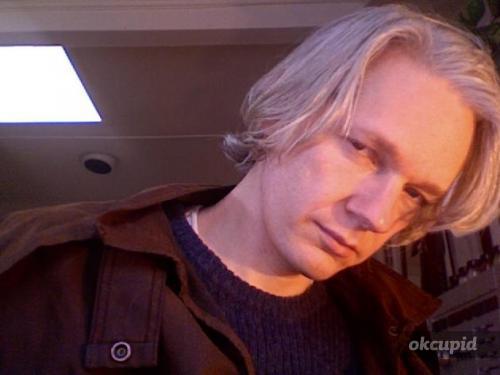 Michael Jackson was afforded the same 'cleansing' treatment. He 'wasn't a paedophile'; he might have slept with the odd little boy, perhaps he did show 'adult' books to 12 year old boys, but he wasn't a 'proper' paedophile, just misunderstood; besides he had given so many people so much pleasure and now they were picking on him.
I was stunned to hear on that bastion of left wing right-on correctness, the BBC, an earnest announcer explaining that Assange might currently be sitting in solitary confinement in the grimmest prison in the UK, charged with rape, but he wasn't, you know, a proper rapist, he was just an itsy bitsy technical rapist….not like one of those evil students who didn't get consent from the naked drunken student lying beneath them, or a married man who thinks that because he has always shagged his wife senseless in a drunken rage that he can continue to do so even when she says no, not like them at all. Besides, this was an explicit Swedish law, not proper law like wot we have in the UK, you know, the sort of law that says a Saudi prince can't beat his man servant in a public lift even though he can at home.
Then we had those earnest luvvies, Ken Loach and Jemima Khan, offering to put up hundreds of thousands of pounds as surety for the court appearance of the world's most famous nomad, because it was all a conspiracy to stop free speech. The CIA had quite obviously, months before Assange released his documents, arranged for a couple of Swedish girls to share his bed on successive nights, completely against his will, and claim that they hadn't agreed to unprotected sex so that the Swedish authorities could be leant on and forced to hand him over to the CIA if he did release anything interesting – obviously a conspiracy.
What is it about celebrity that makes us cheerfully abandon the rules we expect the man in the street to abide by? How many of the male bloggers who have gleefully written the phrase 'trumped up charges' to describe the reason for Assange's current permanent address would be so understanding of a 32 year old rock star who had had unprotected sex with their star struck daughter who was now howling that she might have got Aids? Straight out the door after him with a shot gun I'll wager.
Assange is using the work of the Wikileaks organisation as cover for his freewheeling, nomadic and some what misogynistic sex life. They are two different things, as were Jackson's sex life and his music.
Those who cry 'CIA conspiracy' conveniently forget that it wasn't the CIA's choice that Assange should bed a series of star stuck left wing groupies – it was his. If he proves to have done so in a way that doesn't comply with the law in a country that he was well acquainted with, that is his responsibility, not a conspiracy.
Overnight, a series of Internet dating sites that Assange used in the past to advertise for sexual partners has come to light. The world's most famous whistleblower describes himself as 'a man who never tells' – with the same deadpan irony with which the man who demands total transparency from governments refuses to give his private address to the Judge hearing his extradition case. He can, he says, adapt to anything 'except the loss of female company'. He wishes for women to come forward and present themselves to him – not for his ego the timid and hesitant pursuit of a compliant female that is the lot of the average young man.
There are also the leaked – the irony once more! – message logs between Assange and his fellow whistle blower Domscheit-Berg detailing the disquiet felt within the organisation regarding Assange's sexual exploits; together they tell of a man who was about to tweak the nose of the all powerful American government and who thought he could walk on water. Domscheit-Berg says about Assange: "It is not for nothing that many who have quit refer to him as a 'dictator.' He thinks of himself as the autocratic ruler of the project and believes himself accountable to no-one."
If there really is nothing of substance in these allegations, why would he be prepared to sit it out in the foetid Wandsworth jail in a country renown for handing over citizens to the US government without a murmur, rather than go to Sweden and contest the allegations in a court?
I am not a fan of the laws constraining sexual behaviour, but they exist, and I am less of a fan of those who believe that laws only apply to the little people, not them.
If being a whistle blower in the name of 'free speech' is to be a 'get out of jail card' for all other offences, what crimes shall we forgive Bradley Manning or Heather Brooks? Are they free to go through life raping, pillaging and torturing unhindered because they brought us the truth?
December 20, 2010 at 18:44









December 15, 2010 at 10:40




December 15, 2010 at 02:19




December 14, 2010 at 19:39




December 14, 2010 at 19:12




December 14, 2010 at 16:56




December 14, 2010 at 15:41




December 14, 2010 at 15:34




December 14, 2010 at 12:02







December 14, 2010 at 12:27




December 14, 2010 at 12:01




December 14, 2010 at 11:59










December 14, 2010 at 22:45




December 14, 2010 at 11:58




December 14, 2010 at 11:38










December 14, 2010 at 22:33







December 14, 2010 at 11:27