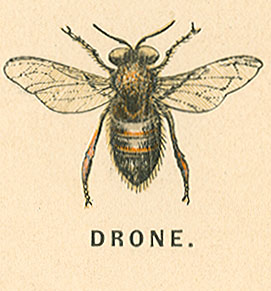 In 1940s Germany, the mere utterance of the word 'Jew' was sufficient to silence any calls for 'due process' or judgement by your peers – you had been denounced as Jew and even if you were shot in front of fifty citizens, in cold blood, without another words being uttered, there would be no complaint. You were, after all, a Jew.
Later, in Britain, we applied the same strictures to the word Nazi. If that word was hung around your presence and eventually even 'Nazi lover' would suffice, no one said – "Oh! are you sure, shouldn't we try him first, and where is the evidence?"
The word had been spoken, in your direction, and that was all the proof necessary to turn witnesses into blood thirsty banshees, screaming their agreement that you deserved to die.
Sometime later, in Britain, we talked ourselves hoarse and argued our way up our own backsides as we decided that 'due process' was not sufficient reason to kill a human being, dearie me no, not even the laying out of all the evidence, teased and tormented by lawyers on both sides, bolstered by forensic experts, enlivened by video clips, mulled over for days on end by a jury, none of that was foolproof, mistakes could still be made, and that was something that we could not live with, not a Christian nation such as ours – Capital punishment must be abolished.
Yet the power of the single 'word' lived on. Whilst all that due process was not sufficient for us to take a life, a single word was.
Not just any old word, there were only certain words sanctioned by the main stream media that had the power to kill. "Rwandan genocide" never made the grade.  It was wrong, we were all agreed on that, but it never made it onto the magic list.
'Child Killer' was a near contender, 'child killer and paedophile' was clinging to that list for a while, not in state sanctioned killing, but in the 'razor blades in the bar of soap aficionados' – no one said 'are you sure', 'shouldn't we try him first' 'what about due process' – they stood back and nodded in understanding fashion as the sentence was carried out – the word had been spoken, and clung around the victim's head obscuring all reason.
We have a new word these days – terrorist. Once flung at an individual it sticks instantly. We lose our coy demand for every option other than death. We silence our doubts that authority could be wrong. We demand no forensic investigation, no jury, no lawyers, we have no qualms. The word has been uttered, there can be no mistake.
Those who argue deep into the night as to the exact meaning of 'let him have it Chris' in the Craig and Bentley case, 50 years later, in a never ending attempt to appease their conscience for having been party to taking a life unfairly, could probably not tell you who Anwar Al-Aulaqi is.
Why would they? We demand no due process for those who have had the magic word uttered over them. No evidence. No justice. That single word 'terrorist' washes over all that.
Anwar Al-Aulaqi is an American citizen. He chooses to live in the Yemen. He may or may not be a Muslim. That may or may not be relevant. He may or may not be a terrorist. We simply don't know. We don't know what he is alleged to have done wrong. Nor, more to the point, does Al-Aulaqi know.
All we do know is that the American government have vowed to kill Al-Aulaqi, in the Yemen, a country they are not at war with, for reasons they will not disclose, in respect of evidence they may or may not have.
The word has been said. He is, allegedly, a terrorist. That apparently, makes it OK.
If it does make it 'OK', then it will equally be OK for the US government to call you a terrorist, and send a smart bomb into your house in the Welsh hills in the middle of the night. If they kill a few of your neighbours in the process, that will just be collateral damage. They won't need to explain to anyone what you did – least of all you. Just speak the magic word.
It will also be 'OK' for the Chinese government to seek you out in suburban Glasgow – "he's a terrorist" – they'll say, it'll make a change from capitalist running dog.
Then again, you might have offended the Israelis with your on-line views – "Oy Vey, Terrorist!" they'll cry as they lob a nuclear missile into Gerrard's Cross.
We shouldn't allow the fact that Mr Al-Aulaqi's name sounds as though it could be a Muslim name, and he is living outside the US to cloud what is happening here.
The fact that some Muslims are terrorists, and some live abroad is not good enough reason for the US government to set out to murder one of its own citizens in a country they are not at war in, merely on the whim of its officials, undisclosed whim at that.
Al-Aulaqi v. Obama – was filed in federal court in the District of Columbia, and names Barack Obama, Leon Panetta and Robert Gates as defendants.  Among other relief, the Complaint asks the court to (a) "declare that the Constitution [along with 'treaty and customary international law'] prohibits Defendants from carrying out the targeted killing of U.S. citizens, including Plaintiff's son, except in circumstances in which they present concrete, specific, and imminent threats to life or physical safety, and there are no means other than lethal force that could reasonably be employed to neutralize the threats"; (b) "enjoin Defendants from intentionally killing U.S. citizen Anwar Al-Aulaqi" unless they demonstrate the applicability of those narrow circumstances; and (c) "order Defendants to disclose the criteria that are used in determining whether the government will carry out the targeted killing of a U.S. citizen" (emphasis added).
I find it extraordinary that we are so reluctant to hang a man who has been found guilty of murder after due process, and yet we cheerfully sanction murder by government officials on utterance of the sacred word "terrorist" and no one even mentions due process. Except the victim's father.

5


October 3, 2010 at 16:36


11


October 3, 2010 at 18:41