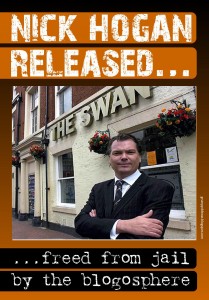 Nick Hogan, the publican jailed for allowing smoking on his premises, who was freed by the goodwill of the blogosphere, has just phoned me – with great difficulty.
He has suffered a stroke and has to retire from active politics – we were due to meet up again in Brussels next month at the European Commission.
His indefatigable energy and enthusiasm in highlighting the essential unfairness of the anti-smoking legislation will be much missed. As will his boundless enthusiasm for promoting the UKIP party. Nick and I could never agree on politics, and he never made any headway in seducing me to the cause of UKIP – but it didn't stop him trying at every opportunity!
I am glad he has decided to put his health and his marriage to Denise first, and devote his time to recovering his health; that is as it should be. Politics is important, but not more important than health and family.
I wish him and Denise well, as I'm sure we all do, and hope that the many causes and people he has supported in the past will give him the space in which to recover and lick his wounds – rather than to be always on the end of a telephone willing to help anyone who asked.
Fortunately the Doctors seem to have treated him in time, and with peace and rest he should make a full recovery – he is still such a young man, I am sure he will do.
If anyone wants to pass on messages of good luck and goodwill, then e-mail me at annaraccoon@gmail.com and I will pass them onto Denise – Nick's doughty gatekeeper, co-publican, friend and now nurse – as ever.