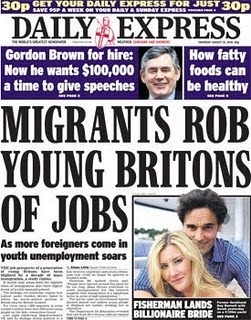 The front page of the Express today is a disgrace.
If we charitably assume that the partial justification for a newspaper is to inform its readers of news, then it fails dismally. If we take an alternative view and assume that its purpose is to provide a sympathetic 'wrapping' vehicle for its advertisers, then I wonder how firms like Tesco, Marks and Spencers, and Specsavers feel about being associated with such naked xenophobia?
True, Migrationwatch's report highlights the high level of migrants in particular regions, and equally highlights the high level of youth unemployment in those regions, but to draw from that information the headline 'migrants rob young Britons of jobs' is patently nonsensical.
Their 'Editor's Comment' is even worse:
"Now proff (sic – perhaps they could do with a migrant in the proof reading department!)that Immigrants have taken jobs of Britons"
Have the Express evidence that even one young Briton was 'robbed' of a job by a migrant? I very much doubt it. Have the Express evidence that an employer would prefer to employ someone with basic English at best, who is just finding their feet in a 'foreign' country, who is going to involve them in a host of paperwork to prove that they are legally entitled to work in the UK, over a home grown young person already established in the area? I very much doubt it.
In order for the Express headline to be anything other than xenophobic and designed to 'generate an atmosphere of fear and hostility' which is one of the criteria for upholding a complaint to the PCC, they would need to show that young people en masse are being turned down for these jobs in preference for migrants.
The real story, and the one that may not be appreciated by the Express' readers, is that there is a correlation between areas where large numbers of young people have a disinclination to take on work which is boring, low paid and possibly inclement, either through laziness or through the effects of a welfare state enabling them not to do so, and those areas that migrants flock to, aware that there are jobs to be done, and wages – however lowly- to be earned.
I am the last person to support the mass migration that Labour's lax border control has permitted, the island is groaning under the weight of too many people; many of those people are asylum seekers who are not entitled to work. Many are illegal immigrants, who work in the black economy. Indisputable facts.
The migrants that the Migrationwatch report refers to are those legally entitled to work here, mainly from Eastern European countries. There is an argument that this free movement should have been gradually introduced, one that I am sympathetic too.
However, it is hardly the fault of those who come here legally and are prepared to take on any kind of work, if the local youngsters – who were here first, as we are so often reminded – and have all the advantages that fluency in the language and 'on the spot' intelligence give you, didn't have the wit to line up for those jobs first. To whine that they are being 'robbed of jobs' is a travesty.
There are many reasons why the locals don't have those jobs, but 'theft' is not one of them.
I note that The Telegraph were far more honest in their reporting:
[Migrationwatch} could not say an influx of migrants caused high jobless rates; it said that across 50 local authorities outside London, an additional 1,000 immigrations meant a rise of youth unemployment of 900.
August 20, 2010 at 11:04







August 20, 2010 at 11:19










August 20, 2010 at 20:01







August 21, 2010 at 00:10




August 20, 2010 at 01:14




August 20, 2010 at 00:47







August 19, 2010 at 23:40




August 19, 2010 at 21:42




August 19, 2010 at 20:20




August 19, 2010 at 19:56




August 19, 2010 at 19:50




August 19, 2010 at 19:37







August 19, 2010 at 20:22




August 19, 2010 at 20:44







August 19, 2010 at 21:30




August 19, 2010 at 19:07







August 19, 2010 at 21:09







August 19, 2010 at 18:09




August 19, 2010 at 17:45




August 19, 2010 at 17:33







August 19, 2010 at 17:35