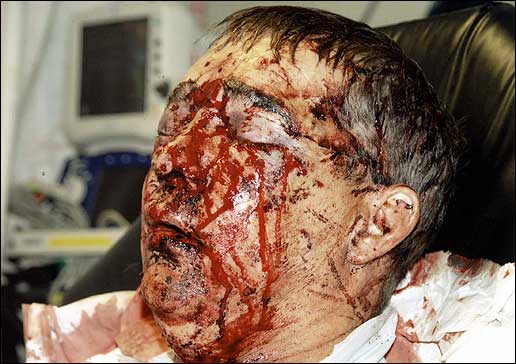 PC David Rathband has been in danger of losing the media fight for column inches. That will be redressed at 7.30 tonight on the ITV1 programme 'In the Line of Fire'.
PC Rathband had the misfortune to be on traffic duty one day, ensuring that the media were not held up in their dash to the Raoul Moat ratings bun fight.
Moat appeared at his side, and for no other reason that that here was an unarmed target wearing a police uniform, he shot PC Rathband at point blank range in the face.
In doing so he shot away Rathband's right eye, and this week we learned that surgeons have lost their battle to save his left eye. He is now totally blind.
The tragic meeting between Moat and Rathband was an unequal struggle. Not because the alleged hard man of Newcastle was holding a gun, and might have temporarily thought himself to be the victor, but because Rathband has shown himself to be that rarity – according to the media – a real man.
It is he who is the victor.
Moat went on to shoot himself when he feared he was about to be returned to the discipline of prison. Rathband is walking away from the encounter with his head held high.
We are frequently fed the line that men are dispensable these days; that families don't need Fathers; that men are uncaring and feel nothing for their children.
That may well be true in Moat's case, despite the lachrymose sentiments displayed by his band of supporters on their web sites – 'a gentle giant', 'doted on his kids' – his relationship with his children was so poor that he had just emerged from jail for beating one of them up; his funeral was attended by a derisory 100 people including a woman who just thought it was a 'good day out for the kids' (sic) (very sick) and one of his supporters who was enough of a 'friend' to know where he was, has just been paid handsomely by the police for information leading to his capture…..
Rathband, on the other hand, left to die in the foot well of his car, was comforted by an image of his children entering his semi-conscious mind.
"I saw my two children and they were floating past me from my left to right as I sat there and they stopped.
"And I can remember my son and daughter speaking to me and I couldn't speak to them, I was drifting away, and as I was drifting away my son stood up and grabbed hold of me.
Those words could only have been written by a man secure in the knowledge that he had a strong and loving relationship with his children, that his children would reciprocate that love and help him in his hour of need. You don't get that sort of relationship by beating your children up when they offend you.
His thoughts of his future only entail 'loss' when they concern his children.
That he couldn't see his daughter get married in a wedding dress.
"I wouldn't be able to give her away and see who I was giving her away to.
"And we'd discussed my son hopefully would go to university and graduate and I couldn't even see him throw his bird table up in the air or with his cloak on, if he's lucky enough to do what he wants to do."
Those things he will never recover, but the practicalities of life – how to make a cup of tea without sight, how to find a matching pair of socks, are challenges that he intends to overcome.
PC Rathband remains determined to continue to work as a policeman and his intention to stay positive in his approach to life in general, in the future.
He said: "I want to go back, I want to be a policeman as I have said from when I've been shot. I can't believe how proud I am to be a policeman and I will go back as a policeman and I have already said to my boss that I want to walk back into the police station that I left on that Saturday evening. I will go back in uniform and I will walk through the front doors of the police station when I return. As proud as punch, with or without my guide dog or a white stick, and I will walk back to where I left on the fourth of July."
Considering his future, Pc Rathband said he refused to let his injury affect his life.
He said: "That I am living now is my bonus.
"I will embrace anything that is given to me in the future.
"And as long as my two children and my wife are happy that's all I need and I don't want anything else.
I am humbled reading this.
We hear the news each night, of young men with no respect for the sanctity of life, this one stabbed, that one shot, another whining that he shouldn't be forced to take demeaning work.
It is easy to forget that Britain still contains real men such as David Rathband. Their courage is just not considered as newsworthy as Moat's self pity and cowardice.



August 26, 2010 at 13:20







August 5, 2010 at 20:17




August 5, 2010 at 19:33




August 5, 2010 at 17:55




August 5, 2010 at 17:21







August 5, 2010 at 17:35




August 5, 2010 at 15:08










August 5, 2010 at 15:52







August 5, 2010 at 15:03




August 5, 2010 at 14:59












August 5, 2010 at 15:45




August 5, 2010 at 13:50







August 5, 2010 at 13:34







August 5, 2010 at 18:05







August 5, 2010 at 20:58










August 6, 2010 at 00:41







August 6, 2010 at 01:19







August 5, 2010 at 13:02




August 5, 2010 at 13:01




August 5, 2010 at 13:00




August 5, 2010 at 12:43