The Rotten Veg Government.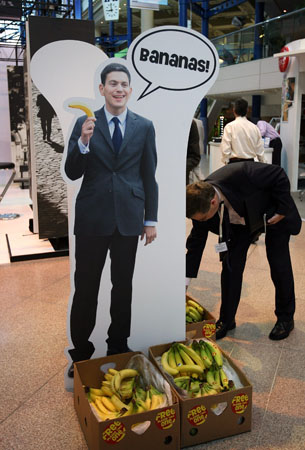 Hat Tip to the Spectator. Not so useless after all.
They have collated the figures for state spending on advertising. The unwanted government propaganda that currently fills the airwaves.
The Electoral Commission allows a party to spend £19 million – now not only does the bankrupt Labour party not have £19 million, but by the ruse of 'government information' Gordon has managed to avoid this cap.
In February he spent a stunning £34 million extolling the virtues of the state.
Not only does he employ five people in the public sector for every two gainfully employed in the private sector, since 1998 the government has been the largest net spender on advertising.
Today they have announced a new initiative. They are taking over your local corner store.
The stores have had a fruit and veg makeover, stocking a wide range of fruit and veg, displaying Change4Life posters and signs, and appointing a member of staff to champion fresh fruit and veg in store.

Each store will receive point-of-sale and in-store branding as well as an ambient stand for display at the front of store.

The Department of Health will continue to support a number of shops in less well off areas where fruit and veg is less easily available, providing funding toward chillers to help keep stock fresh.
Even the humble banana will say 'Vote for Us FFS' where once it just said 'Fyffes'!
By next week the veg will have turned as rotten as this government.