Stop Press ++ Bercow's Begging Bowl ++ Stop Press
Before the General Election has even kicked off, Buckingham Candidate John Bercow stands accused this afternoon of misusing the Office of Speaker in order to further his electoral cause.
In an election contest that is becoming increasingly tight, Bercow has put together a group of supporters called The Friends of Speaker Bercow. Nothing wrong with that: but the approach they're using is, to say the least, dubious.
Letters requesting monetary support have been sent out to wealthy potential patrons….with a hard sell follow-up by phone. I have seen and been given a copy of this letter.
"His people are doing very hard-sell telephone follow-ups to the letter," one recipient told me, "and they're stressing that the request comes with the knowledge and approval of the Speaker's Office".
This was confirmed by a senior local Tory Party member, who felt that asking for 'political' funds (while playing up the Speaker's Office angle) represented double standards.
Another recipient has emailed a fellow-constituent as follows – names have been blanked out to protect the confidentiality of the sources involved:

The Slogg stresses that the validity of the letter and email we have obtained is open to scrutiny by any institution guaranteeing not to publish the names of those involved. Unlike many in the media, we protect sources rather than bullying them out of the closet.
The above (and other) recipients of the email clearly feel that the letter and the 'invitation from the Speaker's Office' are not at all coincidental.
"It's crudely obvious what he's up to" said one, "and it doesn't feel right somehow. He's supposed to be Mr Clean and here he is trading on his position. His position is supposed to be neutral".
Although the Independent candidates involved have been happy to go on the record, recipients of the Bercow sell aren't. Being wealthy – and active in the local Tory Party – they fear repercussions. Tory grandees have threatened to come down hard on those showing disloyalty.
The figure of '£40,000' being bandied about was confirmed when The Slog received the FOJB letter extracted below:
While many in Buckingham are relaxed about the appeal itself, most feel uncomfortable with its hard-sell style – but the fact that so much stress is being laid upon the 'status' of The Speaker's Office is rightly causing concern. Under Parliamentary convention, it is improper to use the Speaker's position for any political purpose.
"It's not nice is it?" said another recipient, "why does he need money to be returned as Speaker? Mind you, it shows he's worried by Farage – and so he should be".
Meanwhile, Independent Eurosceptic Patrick Phillips has sent us this extract from a Tory grassroots email to him:
Dear Patrick,
Yes, I did know about the £40,000 begging letter. I wonder what would happen if someone contacted Richard Hartley-Parkinson, chief reporter of the of the Bucks Herald, and told him about the requests. Particularly as John has a grace and favour home refurnished at the tax payers expense and a £140,000 salary. It may be worth contacting Richard!!!
I will look forward to receiving your flyer. Have you seen John's yet? It's very interesting…
We have been told that we will be de-selected as councillors if we openly show support for anyone other than John.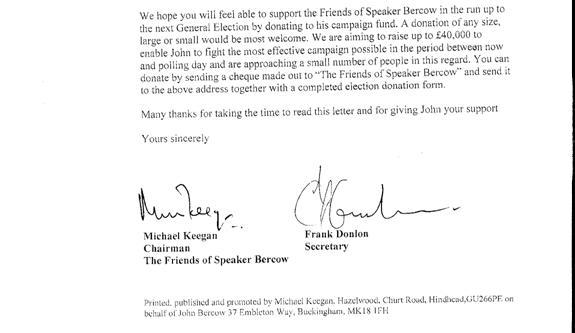 This person too was unwilling to be named (not surprising given the closing sentence) but, as the text shows, quite happy to help Phillips. But the question must still be addressed: what right has the Tory hierarchy to threaten its own councillors in an election where there are no Tory candidates?
John Ward Mike Spilligan
February 23, 2010 at 19:18

Old Slaughter
February 23, 2010 at 20:00

Old Holborn
February 23, 2010 at 20:50

Blink
February 23, 2010 at 21:01

The Slogger
February 23, 2010 at 21:07

Saul
February 23, 2010 at 21:30

Sandy Jamieson
February 23, 2010 at 22:35

That's News
February 23, 2010 at 23:02

Subrosa
February 23, 2010 at 23:44

Bill Baker
February 23, 2010 at 23:46

Alan Douglas
February 24, 2010 at 06:24

Grumpy Old Man
February 24, 2010 at 11:25

Grumpy Old Man
February 24, 2010 at 11:26

Old Holborn
February 24, 2010 at 15:31

Anna Raccoon
February 24, 2010 at 16:38

g1lgam3sh
February 24, 2010 at 17:25

Bill Baker
February 24, 2010 at 18:16

marie19
February 24, 2010 at 18:23

Edward NEIL
March 8, 2010 at 18:52

Simon
March 8, 2010 at 22:59