Abject Apologies to the 'Armless.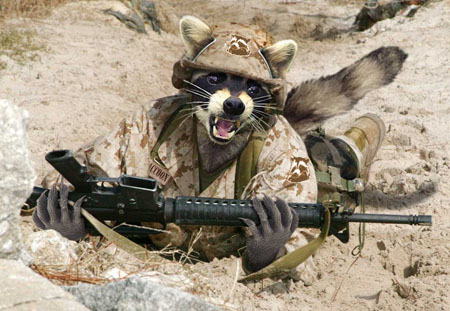 Ms Raccoon could do with a Gatling gun this morning, so many targets, so little time.
The blank blog page looms in front of me, reminiscent of a blank pad of A4 paper long ago, on which were destined to be written the wishes of a young lady who had just turned 18. She was officially an adult now, an age when all right thinking liberal people believe that she should be in charge of her own destiny – that's right and proper isn't it? I mean, you wouldn't want to argue that the freedom to live as you wish should only be accorded to some human beings and not others? Good. Then you'll understand why a High Court judge was waiting for me to return with word of how Annie wished to live.I was getting paid for turning her thoughts into words. The Judge would be paid for reading them and acting accordingly.
I would have shaken hands with her, it is the social norm. I mean you wouldn't want to argue that good manners be extended to some people and not to others would you? We are all equal? Good. Then you'll understand how awkward I felt to discover that Annie had no hand to shake. Nor arms to attach them to.
Had Annie stood to greet me, she would scarcely have topped five foot, a tiny girl, just bursting into puberty. But Annie had no feet to stand on, nor legs to attach them to.
I spoke to wish her Good Day – for there are those who would be quick to condemn me had I behaved any differently towards her than other Human Beings, for we are all equal aren't we? The Disabled  are no less Human and deserving of good manners and consideration than others? But Annie had no ears to hear me, had never heard a human voice, and thus had never learnt to speak. She was both deaf and dumb. She had never learnt to reward her Mother with the smile that encourages further human kindness from the most unwilling parent, nor to produce the tears and screams that bring comfort. Her face was, and always had been, expressionless, devoid of inspiration as to what might be going on behind those dark eyes.
Did I mention that she was blind too, that a hand passed in front of her eyes produced no flicker of reaction, that she had no way of recognising one human being from another as they silently washed and dressed her, fed and bedded her? Fat, thin, male, female, young, old, they were all one to her. She had no favourites.
So Annie lay in front of me, a tiny scrap of humanity, with full Human Rights, as is her due, swaddled like the baby Jesus in a utilitarian white cloth – what difference did colour make to her? and I cast about the room, searching for clues to fill my empty page.
It was a pleasant suburban bungalow, with a large and sunlit garden; the furniture was expensive and well cared for; no complaints there, nor clue to Annie's wishes. Time to ignore the the injunction that I interview Annie on her own. I called one of the carers into the room, to see what she could tell me.
"Did Annie have any visitors?" I enquired, mindful of the substantial sum that was paid out every year to enable Annie's Mother to leave her West Indies home and travel to England to visit her daughter – you wouldn't deny a poverty stricken and traumatised Mother the financial wherewithal to visit her daughter would you? Indeed, so traumatised was she, that she had received payment from the 'Thalidomide fund' in her own right, to 'compensate' her for the terrible negligence of the drug company. You wouldn't deny her the right to use that money to return to the bosom of her own family and buy a home there, would you?
No, Annie had had no visitors for many years…it seems her Mother was still overtaken by guilt and remorse for the drug she had taken to ease the morning sickness, and although she planned to visit her daughter every year, at the last moment she was always overcome by a reluctance to actually face her daughter. At least she made the effort to come as far as London eh? The spirit was willing, but the flesh was weak.
"What of Annie's daily life" I enquired. "Well", she said brightly, "Annie was 18 last week, so she doesn't go to school any more" – School? I hear you say – surely you wouldn't deny a disabled child an education, it is the law that every child should go to school…and so for the past 13 years, a specially adapted vehicle had turned up every morning, driven by a specially trained driver, and collected the freshly washed and swaddled Annie, and transported her to one of the 'special needs' schools dotted around the country, where she lay, immobile and silent, on a different couch, until it was time to leave school and return home, courtesy of the same specially adapted vehicle, with the specially trained driver; there she was handed over to the specially trained carer, one of three on duty all day and night, who washed her yet again, and fed her.
Ah, fed her. Not for Annie a choice of food. Her teeth had been removed many years ago – 'a preventative action', no way of telling whether she had toothache or not. Now her daily sustenance was delivered through a tube into her stomach. Quicker and easier for her carers too. All three of them, highly trained nursing staff, not your average carers on a minuscule wage, for Annie had special, special needs…
Which explained why the charity, yes, charity, charged Annie over £2,000 a week to live in that bungalow, and that was nearly 20 years ago. You wouldn't expect the charity to do all this for Annie for nothing would you? – after all, Annie had a not inconsiderable fortune, drawn from the Thalidomide fund. You wouldn't expect the state to subsidise someone who was well able to afford to pay their own way in the world would you?
Which brings us neatly back to the Thalidomide fund. For long ago, Annie's lawyers – she has every right to be represented in law! – had consulted barristers, highly paid barristers, who had spent many months arguing against other highly paid barristers, in front of a highly paid judge, and extracted from the manufacturers of Thalidomide a sum of money to 'compensate' Annie for their dreadful negligence. You wouldn't argue that such negligence should go unpunished would you?
Someone as vulnerable as Annie could not be expected to take care of their money themselves. So my old favourite, the Court of Protection was roped in to look after her money for her. You wouldn't expect the government to provide that service out of taxpayers money when Annie was a wealthy woman would you? So Annie paid a handsome sum each year, for someone to invest her money, and total up the bills from the charity, and pay for her reasonable expenses, like the cost of her Mother coming to see her every year, and the nurses who watched over her whilst she slept at night, and waited patiently for her to return from school each day.
I cannot think of Annie, which I do as clearly as if it was yesterday that I met her, without the word 'hostage' coming into my mind. A hostage to so many peoples fortunes. The barristers, the solicitors, the nurses, the charity, the special needs drivers, the special needs school, the social workers, the disabled living specialists, the judges, the investment specialists, the case workers in the Court of Protection, her family, me even. All drawing their slice of Annie's fortune.
So forgive me if I don't raise a cheer to hear that yesterday the government decided it would apologise to Annie, and throw another £20 million into the Thalidomide fund, now sadly depleted. For whilst it is right and proper that those who display criminal negligence should pay the price in law, quantifying that price in financial terms will only benefit the army of people who depend on Annie's very existence for their daily bread. And Annie won't even hear the apology.
Now one of the tasks of the High Court would be to make a Will for Annie. She was now an adult after all. You wouldn't deny her the chance to leave what was left of her fortune to whoever she chose? Her inability to speak shouldn't count against her, that would be discrimination. Someone must speak for her. That is why we protect the vulnerable and exercise their proxy autonomy for them.
Who would you name in that Will?
Tuscan Tony
January 15, 2010 at 11:50

Anna Raccoon
January 15, 2010 at 11:59

Maturecheese
January 15, 2010 at 12:31

The Slogger
January 15, 2010 at 13:14

opsimath
January 15, 2010 at 13:25

binlid
January 15, 2010 at 13:35

David Stewart
January 15, 2010 at 14:05

InLikeFlint
January 15, 2010 at 14:12

Fred Thrung
January 15, 2010 at 14:26

Anna Raccoon
January 15, 2010 at 14:42

Ancient and Tattered Airman
January 15, 2010 at 15:09

Majic
January 15, 2010 at 17:05

Rog
January 15, 2010 at 19:23

ivan
January 15, 2010 at 22:08

Gloria Smudd
January 15, 2010 at 22:38

Ch
January 16, 2010 at 19:40

Anna Raccoon
January 16, 2010 at 19:48

Ch
January 16, 2010 at 22:06

Ch
January 16, 2010 at 22:08

Isabel
January 19, 2010 at 14:47