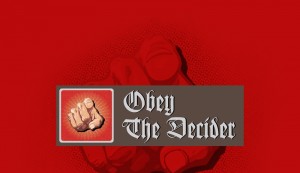 The utter hypocrisy of this quote caught my eye.
"Yvette and I are married. I personally think it is better but I certainly would not say that to other people."
Coming as it did from one of the main protagonists of the Nanny 'we know what is best for you' State, it had me awake for many hours trying to work out who, which government department, where, who selected them, what are they called, these people who dictate what is acceptable to dictate to us and what is not.
My original thoughts concerned the conundrum that is the racism v class war. That it is inherently vile and evil to disparage a man because of the genetic traits inherited from his parents. Who he is born to is not of his choosing, therefore the external signs of that accident of birth should not be held against him – unless of course we are talking of his parents happening to be wealthy and white, in which case it is perfectly in order to hurl abuse at him for the choices – schooling – that his parents made for him when he was a child.
Unfortunately, your Dormouse-like Raccoon fell asleep at that point, and by the time she emerged from hibernation, Devil's Kitchen had already superbly fisked that argument. So I turned to another example of the output of this anonymous Government Department that clears old prejudices out of the closet like the winter wardrobe, only to replace them with a fresh set that it deems more suitable for the season.
Let us move on from 'accidents of birth' and take two prime examples of 'life-style' choices, that have entirely reversed their position, albeit with near identical arguments, over the past 12 spin-infested years.
Homosexuality v Smoking.
Those of you with opinions preformed in quick drying cement may wish to move straight to comments, and deposit your usual turgid prose. The rest of you may wish to engage in a lighthearted exercise.
One of these life-style choices is said to hold a risk of serious illness and possibly death. One of these life-style choices must be conducted well away from 'decent' people. One of these lifestyle choices is said to pose such a risk to young children that anything pertaining to it must be hidden away in shops that cater to such tastes, for fear that children may be encouraged to dabble in the vice that dare not bear its name. The danger is said to be so acute that even advertisements for such practices are banned. Indeed, the risk of accidental 'contamination' or indoctrination through contact with those who conduct this life-style choice is so high that practitioners are banned from adopting children. One of these life-style choices is alleged to risk ailments that cost the NHS a King's ransom every year to treat, and results in many deaths. One of these lifestyle choices is said to interfere with the continuation of the human race. Thus it is decreed that all decent people should decry the practice at every opportunity. Anybody admitting to the practice should be shunned from public places, denounced at dinner parties, forced to fumble furtively amongst the shrubbery if they insist on 'sinning', denied the right to hold their heads up and announce their preference to a tolerant world.
On the other hand, one of these lifestyle choices is protected by legislation from being spoken of disparagingly, joked about, discriminated against. Legislation has been altered specifically to allow children the chance to indulge at a younger age than previously possible. Magazines, newspapers and TV programmes are paraded at every opportunity specifically so that those who had not yet commenced this life-style choice might easily find the information to allow them to do so. The NHS opens its willing arms and special hospital wings to cure the ailments, at great cost, that can follow in its wake. The deaths that occur are publicly mourned as a great loss to society. Annual parades are held, and the men and women of our emergency services censored if they don't attend to publicly show their support for those who make this life style choice.
If you have read this far, you may want to know that I don't condemn either homosexuality or smoking, in fact I am an avid practitioner of one, but not both.
I do condemn the hypocrisy of fashionable discrimination. If discrimination is wrong, and I believe it is, then all discrimination is wrong.
The discrimination which protects and encourages one practice and condemns another. The sporting discrimination which condemns fox hunting but protects cocaine snorting footballers from censure. The religious discrimination which condemns cross-wearing Christians but protects bomb concealing burkhas in our public buildings. The mental health discrimination that condemns discussion of our Prime Minister's mental health, but allows that same Prime Minister to cite the mental health of a drug smuggler as reason why he should not receive the due justice of another country where he has transgressed. The 'identity' discrimination that condemns discussion of the advisability of promoting a man to the highest office – Privy Councillor – on the basis of his birth but permits discussion of the advisability of promoting a man to Prime Minister on the basis of his birth.
Who decides what is the correct shade of discrimination this year? How long the hem line of disapproval will be? Which coat of sanctimony to put to the back of the cupboard, and which to wear with pride? Tight pursed lips this year, or slack jawed acceptance for all?
Is it really the province of Cabinet Ministers to determine who lurks in the closet and who parades with pride?  Something like 1% of the population belong to any of the 'big three' political parties. Those people seem to be solely responsible for deciding what the rest of us think and believe  -even when we don't believe, we are corralled by draconian laws into pretending that we do.
Why do we let them?

21



December 30, 2009 at 16:16