You Aint' Nothin' but a Vawg Dawg, Messing all the Time…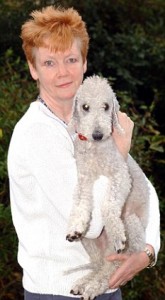 The Redcar Redtop has been at it again – can this woman do nothing uncontroversial?
She has been spending too much time with Harridan Harman. Their recent joint effort was to produce the VAWG report – Violence against Women and Girls, which completely overlooked, nay ignored, violence against men.
This morning it is claimed she has absorbed more than just Harridan's feminist shrieks, she is now mouthing her arrogant attitude too.
'Don't you know who I am' she is alleged to have said to a humble police community support officer when he tried to speak to her about an offence. Why should he, unless he has relatives in Redcar?
The offence in question, was failing to clear up the foul mess left by her new dawg on King's Cross Station. Ms Baird had summoned another of the 'common pe0ple' – otherwise known as a station cleaner to stoop to the task of scraping up her dog's effluent.
Whilst she was grandly waiting for him to perform his humble task, she was taken to task by another passenger with a young child who objected to her leaving the mess and walking away. Reportedly, Ms Baird gave her a 'complete moutfull' for her temerity in speaking to her thus.
When a police community support officer turned up to deal with the altercation, a by-now furious Mrs Baird made it clear she felt she was being humiliated and allegedly said 'don't you know who I am?'.
Eventually, the PCSO took Mrs Baird's details and submitted a report suggesting the minister be investigated for a low level public order offence for causing 'harassment, alarm or distress' – which carries a maximum fine of £1,000.
The incident was officially logged as a crime.
According to sources, a number of officers thought charges would be brought. But, after 'reviewing the evidence', – a smelly  task indeed! – senior transport police officers ruled that the case be dropped – much as the evidence was….
Shouldn't our MPs be issued with identity cards, showing them to be very important personages, who should not be expected to act with decency or honesty. Lowly PCSOs should have some indication to inform them that these grand personages can talk on their mobile whilst parking their car, or indeed whilst streaming down the M6, mowing down innocent voters. Nor should they be expected to retain photocopies of important documents when hiring their cleaning staff. It is not good enough that they be treated as ordinary human beings.
Otherwise  incidents where PCSOs see a dyed red haired slapper being abusive, and causing harassment, alarm and distress to an innocent Mum are liable to be investigated right up to the level of senior officers before someone realises that in fact it was an MP behaving perfectly reasonably.

3



December 18, 2009 at 08:52