The Not So Triffling Truffle.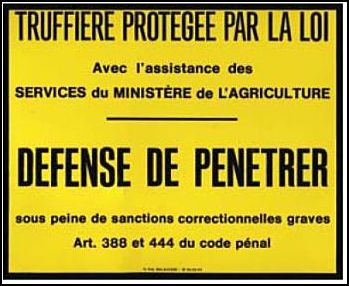 The weather is still 20 degrees plus every day, the skies are clear and blue, but we know that Autumn is with us for the woodlands in these parts bristle with signs warning that the age old Perigourdine tradition of hunting for mushrooms is interdit here, and here, and over there too.
You quite literally take your life in your hands, and definitely that of your dog, if you wander the crisp tracks of the local oak forests now that November is nearly out.
The humble peasant's mushroom has been infiltrated by organised crime.
Time was when only the Truffle, the most highly prized fungi of all, attracted the attention of criminal gangs. Today, the humble cep, with its price tag of €30 Euros a kilo even in the local market, can earn a man €7,000 in a couple of weeks – a significant income in an area with an average wage of €10,000 a year.
Many of the local Chateaux are surrounded by wooded land of anything up to 100 hectares – historically they have turned a blind eye to the parties of local families who turned up with a wicker basket to collect ceps to preserve for winter food. They are not so enamoured of up to 20 strong parties of armed Romanians who are prepared to shoot to preserve their haul.
Last month, the French health authorities warned mushroom enthusiasts yet again that they should be absolutely sure of what they eat after a dozen people were hospitalized — three in intensive care — with mushroom poisoning over the course of just two weeks in western France. Every pharmacist in France is trained to identify the different varieties, and will not bat an eyelid if you walk in with a basket of assorted mushrooms and ask them to tell you which ones you can eat.
There is a network of 'depots' who will buy your surplus mushrooms, clean them and ship them to Paris overnight – that is the legitimate market. There are also the local markets where you may find 'Madame' standing guard over one gnarled cep, unwilling to disclose the exact quantity she has for sale. Quantities offered and prices agreed are passed back and forth on small slips of paper to lessen the chance of 'trade secrets' being revealed to nosy neighbours. It is no place for the amateur buyer, lead shot can be inserted into the fungi to make them heavier, dried out ceps soaked in an unmentionable concoction overnight to plump them up.
Now the market is to be regulated, with licences issued and armed guards employed to roam the woodlands.
Between the armed Romanian gangs, the newly armed 'forrestieres', the foraging wild boar, themselves tracked by other armed hunters, and irate landowners shooting at anything that moves, the dog will be getting its daily walk along a tarmaced road between the rows of vines. There is only so much excitement I can take in the winter sunshine.