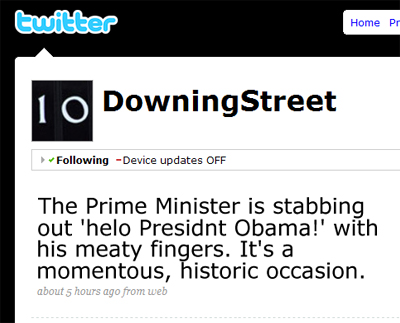 How fitting that the end of the much vaunted 'special relationship' should come about in the kitchens of the UN building.
The BBC headlines over the past year tell the story poignantly.
Obama calls for strong UK links. July 08.
PM congratulates Obama by phone. Nov 08.
Brown hails Obama's inauguration. Jan 09.
Brown speaks to President Obama. Jan 09.
Obama greets 'good friend' Blair. Feb 09.
Brown and Obama to meet in March. Feb 09.
No 10 'frantic' over Obama talks. Sept 09.
The humiliating image of Gordon Brown scuttling between the bain-maries hoping for a last glance, a kind word, from the gigolo who, if truth be told, had continued to agree to occasional trysts merely to ensure that the loan granted 60 years ago was finally repaid.
A wiser courtesan than Brown would not have risked a dalliance with Colonel Gaddafi when he no longer had a hold over his Sugar Daddy.
60 years ago the United Nations was a mere infant, Britain a vulnerable and accomodating young woman, and Uncle Sam, feeling virile, draped the The Marshall Plan around her neck to plight his troth, with the proviso that she should repay annually the price of this glittering bauble.
In 2006, the raddled and infertile old crone that Britain had become, repaid the last of that debt. Uncle Sam was heard to say that he found visiting her a 'faintly depressing experience', that had an 'end of regime feeling about the whole thing'. She was 'lacklustre'.  Uncle Sam was looking East and wooing an ingenue Chinese maiden.
Gordon Brown, imagining he still had powers of seduction over Uncle Sam, responded to this chain of events, with a series of afternoon meetings in a seedy motel with that old goat Gaddafi. He plied him with gifts, an oil exploration contract, the Libyan bomber al-Megrahi was delivered to his tent. Gaddafi groaned with pleasure.
Sam's patience was exhausted. Thus it was that when Brown flew over expecting champagne and oysters, he found only a fake award for 'global statesman' bestowed by that relic of the 60s, Bono, and despite his plaintive bleating, was reduced to lurking in the hotel kitchens as security smuggled his gilded suitor off stage and safely past his fans.
Gordon didn't even get an autograph.

12



September 24, 2009 at 20:08