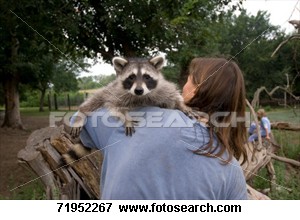 David and Ena Webber, from Christchurch, Dorset spotted me while they were trying to record birds as part of the RSPB's monitoring exercise, the Big Garden Birdwatch, which took place this weekend.
They called the police, who said they had no reports of a missing raccoon, and then the RSPCA.
The charity said it did not know where it had come from but said it was in good condition and was probably someone's escaped pet….(Saul's??)
Mrs Webber, 71, said: "We were trying to do the RSPB Birdwatch this morning when we spotted it at about 10 o'clock. We thought it was a cat.
"Well, cats and birds don't go together so I fired the water gun at it and its little face came out and it just looked at me and said, in no uncertain terms: 'Stop I want to go back to sleep'.
"It wasn't impressed at all. It had such a cute little face. It stayed in the same tree, on the same branch and didn't move. It was fast asleep.
"It's a total mystery, nobody knows where it's come from. Police told us they had no records of a missing raccoon."
Katie Geary, RSPCA spokeswoman, said it was unusual, but not unheard of, to find an escaped raccoon.
She said: "The officer tried to use an apple to coax the animal down but it failed so he used a grasper around its middle to gently get it down from the tree.
"Raccoons are semi-nocturnal animals so it was very sleepy. It was in a very good condition. It was about 10kg (22lb), the size of quite a large cat.
"We think it's owned by someone in the local area so if someone has lost a raccoon they should contact us."
The raccoon is being cared for at a local RSPCA rescue centre, and has been given acess to the internet and a laptop……..
A spokeswoman said a number of raccoons have been captured by the charity in recent years.
She said raccoons were recently excluded from the Dangerous Wild Animals Act, so it was no longer necessary to have a licence to keep them.
"People should be very wary though, because they can give a nasty bite," the spokeswoman said.
August 13, 2009 at 20:55







August 13, 2009 at 20:46




August 13, 2009 at 20:37







August 13, 2009 at 20:23




August 13, 2009 at 19:34







August 13, 2009 at 17:40







August 13, 2009 at 17:32




August 13, 2009 at 15:14




August 13, 2009 at 13:20




August 13, 2009 at 10:30




August 12, 2009 at 22:37




August 12, 2009 at 22:16