Parliament and My Little Pussy………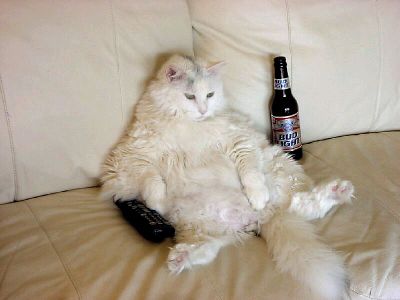 Nick Palmer, Labour MP for Broxtowe, and long time supporter of animal rights, yesterday took time out from worrying about the economic chaos facing the UK to fret about my poor little pussy.
Being elderly myself, this is an issue that affects me, but I assure you that my pussy is the least of my problems as I reach the gates of Labour's 'care for the elderly'. Indeed, the whole issue of Labour's 'care for the elderly' so concerned me that I left the country of my birth and took up residence in France where they believe in the sanctity of life, amongst the many advantages of living here.
It should concern all of you, young and old, and would – if journalists had any mettle, but unfortunately the complexities of the Mental Capacity Act 2005, are such that even after four years, they have still not managed to grasp the full appalling horror of this insidious piece of Labour legislative garbage. Too damn difficult for them.
Social Services have figured it out though, and are starting to use the Act with devastating accuracy.
Let me spell it out for you in as plain and simple English language as I can manage.
If, for a variety of reasons, ranging from you being a child, through your being unsure of who the current Prime Minister is, via perhaps getting up early one morning and deciding to give your old car away to the mechanic who has serviced it for 30 years, to the disgust of someone else who had hoped it would be theirs one day……..you can find that the right to make important decisions for yourself has been handed to an anonymous civil servant.
Let me tell you a story of a lady I met, I shall call her Vera.
Vera was waiting for me in her nursing home, incandescent with rage. She thrust out a bruised hand for me to shake. Her 'ring' finger was quite purple.
She told me that she had had a fall in her home and had to go to hospital. What had occurred since then shocked me to the core.
Vera had been quite a 'gal' in her time. Now in her late seventies, you could still see the beauty she had once had. She had been engaged three times, to prosperous men each time. They had each presented her with a magnificent engagement ring. The first one had died in the war, the second died in an unfortunate accident. Courageous the III had actually survived the engagement long enough to marry her. He had been ultra prosperous and gave her a fine gold Rolls Royce to drive. Unfortunately he had been married before.
When Vera went into hospital, her step daughter had taken the opportunity to call round to her home for the first time in 10 years. She was looking for the Rolls Royce. It wasn't there. Step-daughter went to the hospital, and demanded to know where it was. Vera explained that she had stopped driving some five years before, unable to handle such a heavy car, and had made the decision to give the car to the Rolls Royce fanatic who had lovingly serviced it for many years, and still arrived every week since her husband died to start it up and make sure it didn't just rot away. It is the sort of thing I hope to be able to do myself one day, albeit it will be a humble Morris-Minor, not a Rolls Royce!
Take careful note of the next paragraph.
Step-daughter went to the hospital authorities and demanded to be given Vera's handbag and pension book. She was told that she couldn't have them without the authority of the Court of Protection and asked why she needed them. She replied that 'Vera was giving away her possessions that she ought to be inheriting'. She was given a form to take to the Doctor. The form asked the Doctor why he thought the Court should 'investigate' Vera's affairs. 'Giving away her possessions' he wrote. A reasonable answer, and he was only asking that the court should 'investigate'.
What that Doctor wouldn't have known unless he had a very sharp memory for the four point five minutes of his training that might have reminded him of the fact, is that in the UK it has been ruled that it is not for for a judge to 'second guess' a medical person. Signing that form asking the court to investigate had the legal effect of signing Vera straight into the Court of Protection…….neither the civil servant on the receiving end of it, nor the judge, who would never have seen it anyway, had the authority to overrule the Doctor's 'opinion'. The Doctor, for his part, only thought he was setting in train a process that would examine the situation, there was nothing on the form to tell him that he was the final authority.
From that moment onwards, Vera's life was out of control. Social Services were asked whether Vera could manage to go home alone. They didn't need to go and see her, they telephoned the hospital who told them that Vera had a broken leg. They boarded her house up. At her expense, naturally. They sent the bill to the Court of Protection, who accessed her bank account and paid it without even asking Vera. Why would they?  Vera was now a person 'without mental capacity'.
Vera was moved to a nursing home. Her handbag and pension book were taken away from her. Security rules of the home.
She asked for money to buy cigarettes. No chance. The home had a no-smoking policy.
She asked for money to buy a bottle of sherry, all her life she had had a slug of sherry at the end of the day. Need I tell you the answer?
Then two nurses appeared and asked for Vera's magnificent engagement rings. She refused. They returned with a length of string and a bottle of washing up liquid. An hour's struggle later and the rings had been removed 'for safekeeping' into the home's safe. Another resident 'might steal them and the home would be responsible' – given the struggle two nurses had had to remove those rings after 40 years, the risk was marginal.
Vera told me all this with quiet dignity, but then she lifted her skirt and showed me the utilitarian knickers she had been given to wear, and she really lost her cool. Apparently the nursing home laundry might have damaged the silk knickers she had worn all her life, and now she had been presented with the original pair of 'Bridget Jones' passion killers to wear, and she was bloody furious……she was, she told me, quite happy to do her own washing, but it was against health and safety rules for residents to risk splashing water on the floor…..
So there she sat, marooned by her broken leg, no cigarette, no sherry, no rings, not even her own knickers, her home boarded up at her own expense, and all because the step-daughter wanted her car. 'What', she wanted to know, 'was I going to do about it?'
I set in motion an application to have Vera released from the Court's 'protection'; contrary to the ease with which you can enter that protection, getting released requires a consultant psychiatrist, to certify that there is absolutely no risk involved in giving you back control over your affairs – and they have long waiting lists. Three and a half months in Vera's case, and by that time her blood pressure, which was at boiling point when I saw her, had soared to the point where she had had a severe stroke. She never saw her home again, nor had another cigarette, nor glass of sherry, nor was she re-united with her silk knickers.
You may imagine that if you had been Vera, your husband, your wife, your children, your parents, would have been able to do something to prevent this happening to you.
They can't.
The Mental Capacity Act has enshrined the culture of the individual. 'Family' means nothing.
Last week it was used to prevent Dorothy Townend from taking her 86 husband home from his nursing home. Two months ago it was used to snuff out the life of the young son of loving parents.
What has all this to do with Nick Palmer MP? Yesterday he decided that there were certain aspects of the Care of the Elderly that he was concerned with. Laudable.
He isn't concerned that 'Vera' (or I) can't have a cigarette, nor a sherry, nor her own knickers, nor that Dorothy can't take her husband home, nor that some anonymous civil servant will be deciding on whether they receive further medical attention including food and water, nope, he's worried about the fact that when elderly people go into care:
"in the most recent year for which statistics are available, 38,000 healthy pets had to be put down and a further 100,000 had to be given up by their owners. Many of those pets will have been put down after an attempt to re-home them."
He is introducing the 'Care Home (Pets) Bill' in October. Apparently The Society for Companion Animal Studies, supported by the Pet Food Manufacturers' Association, who 'have been extremely helpful in preparing the Bill', has published research to assess the scale of the problem in the UK. Well, you would expect the Pet Food Manufacturer's Association to back a Bill that will keep another 38,000 pussies happily chomping away on Kitikat.
If this Bill has the happy side effect of allowing more elderly people to take their pets into care homes with them all well and good, but what a strange world we live in where parliament can concern itself with our pussies, and yet decimate our purses and condemn old people to a miserably regimented life at the end of their days without a care in the world?