McMysogeny and Gynophobic Politics.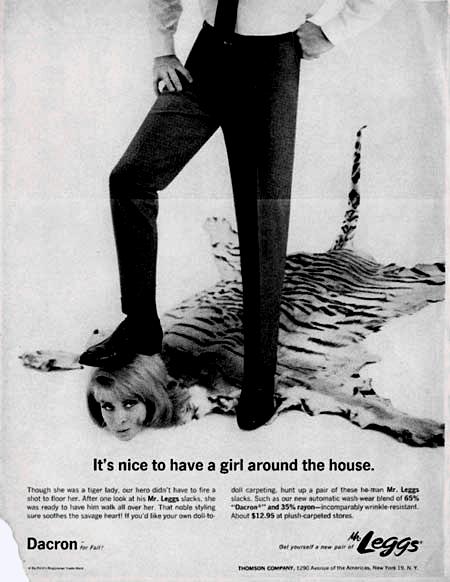 Who can forget the colourful outburst by Sir Richard Mottram, the permanent secretary at the Department of Transport, in response to news that special adviser Jo Moore had suggested 9/11 was a good day to bury bad news. He said:
"We're all fucked. I'm fucked. You're fucked. The whole department's fucked. It's the biggest cock-up ever and we're all completely fucked."
His use of the anglo-saxon word 'fucked' betrays a fear of being compromised by being placed in the passive sexual role of a woman. I shall take a private bet with myself as to how long it will be before some commentator tells me that they know women who take an aggressively active sexual role, and no doubt there are; my point though, is that the phrase is generally taken to mean that one has been belittled and placed in the 'general' position of passive woman – not the 'in control' position of man the aggressor.
I say this not because I am a feminist, but because I believe that much that is wrong with our governence today stems from the belief system of the Scottish cabal of 'men', for want of a better word, that politics is a war zone, a testosterone rich environment, where wounds must be inflicted, battles can only be won or lost, not by debate or compromise, but by reducing ones opponenent to the feared position of passivity.
I look  at Damian McBride's pugnacious, ruddy, face, and I think, I know your sort. Propping up the bar in the hotel with the other travelling salesmen, with a stock of jokes centered round belittling women.  Stand up comedian in a sweaty Liverpudlian back street club, retelling for the umpteenth time 'how he got the better' of his Mother in Law. Down the golf club at five to three on a Sunday lunchtime  'having one for the road'  before finally weaving his way home to the ruined lunch. I cannot look at the man and visualise him in any kind or caring environment. He reeks of mysogyny. A man who resorts to his fists because he cannot use words.
I was wrong. He can use words, and has done so with devastating effect. Unfortunately, more devastating to his master than to his intended victims.
Listen to the words, though, and you will see that I was not far wrong in my visual appraisal.
There is a common theme to his words, and that theme betrays a fear of women.
The alleged 'sexual infection' of David Cameron. No allegation that DC was gay, so what is being implied was that he had been 'damaged' by contact with a woman.
The alleged 'one night stand' attributed to Nadine Dorries, implying that she was a slut, a loose woman; no mention of the man involved – so no damage to his reputation.
The alleged 'fragile mental health' of George Osborne's wife, implying that here was an hysteric, not 'properly' controlled by her husband.
Andy McSmith has alluded to his blunt language, and fondness for drinking and talking late into the night. A man's man, then, and one with a deep seated mistrust of women.
It is not difficult to see why Gordon Brown should have hired this pit bull; a higher than average proportion of senior Labour politicians emerged from the 'closet' to enter the 'cabinet'.  They like the relentless, brutal, tribal viciousness that circulates round a man like McBride. They whimper piteously 'anywhere but the face, darling' when it is turned on them, but they love to see a bit of 'rough' seeing off their enemies.
This isn't governance for the population, this is a tawdry – and fey – group of men who never got over their fear of Mummy, using their position of power to further their own interests.
This is the playgound bully given the keys to the head master's office.
The few women that stray into politics soon learn that they must play equally rough to survive – Harriet Harman was once a committed supporter of female achievement and involvement – as Minister for Women she was a disgrace, introducing the cut in single mothers' allowance, leaving single mothers at the mercy of the incompetent Child Support Agency.  I am thus no supporter of her policies, and if it was only her policies that were discussed or condemned, then so be it but as always with Harriet or 'Harpy' as she was nicknamed by the men surrounding the Prime Minister, and the other women in political life, it is accompanied by personal and gynophobic abuse.
Of course it is not restricted to Britain. When Hilary Clinton was campaigning to be Presidential nominee she was subjected to a barrage of abuse from the 'iron my shirts' heckle to the contemptible banner: "Life's a bitch. Don't vote for one".
Politics is said to be a 'rough, tough game' – it shoulnd't be. Women make up 50% of the voting population, and until men allow room for those aparently despised female skills of compromise and debate, consensus, and fairness for all, then politics will continue to be a Westminster village game, which holds no interest for, and more importantly, has no benefit to, the entire population.