Nought out of Ten for One of the Ten Best Sex Toys
Glancing, as you do, at the Independent web site, I caught sight of a list promising to disclose which frisky fun-purchases might qualify for inclusion in the site's list of the Ten Best Sex Toys. So, I read on…..
I clicked through 9 pages (nothing if not dedicated, our Gloria! Ed) of fairly predictable 'aids' (hand-cuffs, frilly knickers, edible body paint (yawn)) and, as if kept back for the bored and portly housewife among us, No 10 on the list turned out to be this.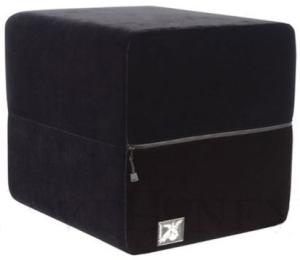 Hmm. Fighting back the irresistible urge to buy one straight away?
No, I thought not.
This faux sexy-blob is something called The Liberator and apparently costs £104.99.
It is described thus:
"Essentially a tarted-up stack of cushions, the liberator is a foam-core block that unfolds into a shape that's designed to facilitate a range of sexual positions. It has a removable casing for easy cleaning, and could be used as a foot stool at quieter points during the evening".
What the ruddy heck is that supposed to mean?
What springs readily to mind when you visualise 'a shape designed to facilitate a range of sexual positions'? A hexagon? A right-angled triangle? A rhombotic dodecahedron? Is The Independent suggesting we should all have this ugly sponge-clean pouffe in our living rooms to maintain our marital harmony?
What springs to my mind in face of this nonsense is a ball of marketing literature screwed angrily down to the smallest thing a furious fist could make of it. Is this the out-of-touch whisper of a marketing mogul gone mad? Without the sales figures I guess we will never know.
I accept I'm getting old. I admit I look like Hattie Jacques. But at least I have the imagination to fling a few exhausted sofa-cushions on the floor when I can persuade the thankfully-short-sighted object of my menopausal lust to engage in a bit of impromptu hanky panky. A wipe-kleen suedette cube at over a hundred quid? It wouldn't transform my very married sex-life, so thanks but no thanks on this occasion.
April 17, 2009 at 13:38




April 17, 2009 at 12:12







April 15, 2009 at 16:04







April 15, 2009 at 12:30




April 15, 2009 at 12:05







April 15, 2009 at 11:26







April 15, 2009 at 11:14




April 15, 2009 at 10:50




April 15, 2009 at 09:19







April 14, 2009 at 23:35




April 14, 2009 at 23:02







April 14, 2009 at 21:07







April 14, 2009 at 21:03




April 14, 2009 at 20:46




April 14, 2009 at 18:23




April 14, 2009 at 17:54




April 14, 2009 at 17:44