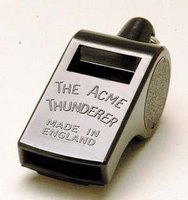 It has been a spectacular few weeks for that endangered species, the Whistleblower.
First up was Paul Moore, who had patiently bided his time and delivered a broadside under parliamentary privilege to the Commons Treasury Committee, securing not only the scalp of his former boss, Sir James Crosby, but delivering a nasty wound to the backside of the Prime Minister.
Then neighbours of 'Second Home Secrecy', Jacquie Smith, successfully twitched their curtains and blew the unwelcome wind of scrutiny by the toothless Parliamentary Standards Commissioner, John Lyon, up her skirt.
Yesterday, a Venezuelan financial analyst, Alex Dalmady, was revealed as the finger on the trigger which blasted Allen Stanford's billion dollar Ponzi scheme out of the water.
In all three cases there were highly paid professionals staffing regulatory agencies, respectively, the FSA, The Standards Commissioner and the Securities and Exchange Commission, which exist solely to uncover these scams. They are not required to prosecute scams, that is for the Police and FBI – their function is merely to use their 'superior' knowledge and experience to notice when something is going wrong.
Yet all these scams would still have been firmly beneath the water line without the bravery and initiative of relative amateurs.
Hat tip to Cityunslicker who has added another twist to this tale; highlighting whistle blower Graham Milne of Lloyd's TSB, and the ironic detail that Carol Sergeant who was awarded the CBE and made a Trustee of the charity Public Concern at Work (motto: Making Whistle-Blowing Work) had previously been the Managing Director of the FSA that had dismissed Milne's allegations – and subsequently became the Chief Risk Director at Milne's old employers…….Lloyd's TSB.



March 17, 2009 at 10:31







March 16, 2009 at 12:08




February 20, 2009 at 22:11







February 20, 2009 at 22:06




February 20, 2009 at 22:00




February 20, 2009 at 06:13







February 19, 2009 at 22:14




February 19, 2009 at 15:25