Britain on its Beam Ends?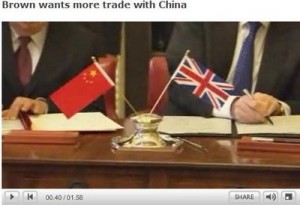 Old salts will recognise the signs immediately – our beloved leader sending out distress signals as the Good Ship Britannia staggers and wallows over onto her beam ends…..and no sign of the Captain being keel-hauled! – is it too much to ask of life that he should be hoist on his own petard and hung upside down from a flagpole? I never did much care for the cut of his jib.
A hat tip to the excellent Old Croydonian and my thanks for this picture of our proud ensign flying upside down, unnoticed by the land-lubbing politicians.
A link to a special glossary of ancient nautical terms HERE for our overseas readers!



February 7, 2009 at 01:23




February 7, 2009 at 00:54




February 7, 2009 at 00:54







February 7, 2009 at 00:47







February 7, 2009 at 00:43




February 7, 2009 at 00:35







February 7, 2009 at 00:30







February 7, 2009 at 00:29







February 6, 2009 at 16:00




February 6, 2009 at 15:43







February 6, 2009 at 15:35







February 6, 2009 at 15:05







February 6, 2009 at 15:02




February 5, 2009 at 23:13




February 5, 2009 at 23:04







February 5, 2009 at 22:54







February 5, 2009 at 22:52




February 5, 2009 at 22:48




February 5, 2009 at 22:34




February 5, 2009 at 22:34







February 5, 2009 at 22:29




February 5, 2009 at 22:29




February 5, 2009 at 22:14










February 5, 2009 at 22:24




February 5, 2009 at 22:03










February 5, 2009 at 22:08




February 5, 2009 at 21:31










February 5, 2009 at 21:43




February 5, 2009 at 21:24










February 5, 2009 at 21:26




February 5, 2009 at 21:23










February 5, 2009 at 21:25







February 5, 2009 at 17:17







February 5, 2009 at 16:37




February 5, 2009 at 15:51










February 5, 2009 at 16:04




February 4, 2009 at 10:19










February 4, 2009 at 10:21







February 4, 2009 at 01:00







February 4, 2009 at 00:50




February 3, 2009 at 22:59




February 3, 2009 at 22:22




February 3, 2009 at 21:57







February 3, 2009 at 20:12







February 3, 2009 at 18:07




February 3, 2009 at 14:47