TO KILL OR WHAT? IT HERTZ!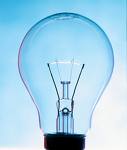 WHAT WILL I DO WITHOUT MY 100 WATT LIGHT-BULB!
It's a sad day when our tiny group of islands called the UK decide that we have to go along with the EU ….. again!
It has been decided that the 100 watt light-bulb is to be banned to save energy.
What? When we are surrounded by the most choppy waters on the planet that could create electricity for fractions of pennies?
What? When we have the draughtiest, windy climes on the planet to create electricity
Where once we used one light-bulb, we will now need at least four to do the same job. More risk of mercury poisoning and the damnedest of head-aches for all ages.
A message to the EU from Coco …….. I have just dug out two 300 watts light-bulbs ……. And I am not even going to use the dimmer switches!
January 9, 2009 at 03:48




January 8, 2009 at 01:22




January 8, 2009 at 00:41




January 7, 2009 at 22:41




January 6, 2009 at 23:06




January 6, 2009 at 22:16




January 6, 2009 at 22:04




January 6, 2009 at 21:16




January 6, 2009 at 21:01




January 6, 2009 at 20:53